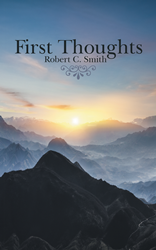 "The Lord is near and available. We are surrounded by His work, and His work reflects His nature. God's ways are the most satisfying and fulfilling in life."
TOANO, Va. (PRWEB) April 27, 2021
Robert C. Smith has released "First Things," an eloquent and engaging collection of poetry, prose and scripture-based devotional teachings that illuminate the presence of God in everyday life. Touching on a variety of topics, including family, marriage, health and nature, Smith presents profound insight into the remarkable ways in which God extends His love and guidance, especially when it is needed most.
"First Things" lends itself to daily devotional reading and reflection, inviting readers to set aside time to explore the beautiful landscape of God's design. As Smith notes, "God's handprint is on every single thing we can see," and the book points to how near He is in day-to-day moments and where to look for Him. Smith also incorporates hopeful messages about the pandemic, prompting deeper thought on how Christians can use this moment to turn to God and fulfill His mission for them.
Nearly 14 years ago, Smith began writing daily devotions out of a desire to strengthen his relationship with the Lord. Starting each day with a walk followed by a quiet moment of spiritual contemplation has allowed Smith to bear witness to the myriad of ways that God shows up in his own life. Through "First Things," he hopes to encourage others to see for themselves how close He is.
"The Lord is near and available," said Smith. "We are surrounded by His work, and His work reflects His nature. God's ways are the most satisfying and fulfilling in life."
Uplifting, encouraging and spiritually nourishing, "First Things" offers a salient reminder that God is omnipresent, and that He is always there for those who seek Him.
"First Thoughts"
By Robert C. Smith
ISBN: 9781664210776 (softcover); 9781664210783 (electronic)
Available from Amazon, Christianbook.com and WestBow Press
About the author
Robert C. Smith has always loved matching thoughts with words, but life carried him away to seek other careers first. He is a graduate of the U.S. Naval Academy and served in the Navy for five years then spent 18 years working in aircraft carrier construction before transitioning into financial planning. Throughout his life, his greatest blessing has been a saving relationship with the Lord. He has traveled through adulthood with his wife of 44 years, Shirley, and they have shared the joy of raising three wonderful daughters. Now, they cherish the "dessert" of nine grandchildren.
Review Copies & Interview Requests:
LAVIDGE – Phoenix
Leslie Standridge
480-998-2600 x 586
lstandridge(at)lavidge(dot)com