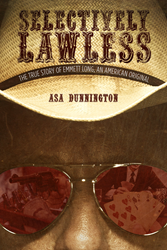 He was the well-respected and feared member of my father-in-law's family. Some considered him the black sheep, others loved him. -- Asa Dunnington
DALLAS (PRWEB) November 13, 2018
Today, November 13, 2018 marks the release of Asa Dunnington's Selectively Lawless: The True Story of Emmett Long, An American Original (Brown Books Publishing Group).
Asa Dunnington is no stranger to a world of controversy, with some family members who hauled booze for Al Capone and others who married two of Capone's henchmen, all during the Prohibition era. Coming from a long line of fabled characters, Dunnington was the ideal author to reveal the untold story of an outlaw turned philanthropist in Selectively Lawless: The True Story of Emmett Long, an American Original.
Forty-nine years ago, Asa Dunnington learned about the unforgettable adventures of Pretty Boy Floyd and Bonnie & Clyde, how his Uncle Emmett killed five people, was a bank robber, and successfully ripped off Caesar's Palace for half a million dollars. Yet it wasn't until after Emmett Long's death that Dunnington finally transcribed the entire story that would become Selectively Lawless.
"He did things in life that were one of a kind," shares Dunnington. "He was a good judge of character, he had good common sense, and he had GUTS!"
In this true account, a legend comes to life: a man who made his own rules and broke them whenever it suited him. But Long's story doesn't end at his mobster ways; he pursued philanthropy and religion later in life.
"He was the well-respected and feared member of my father-in-law's family," says Dunnington. "Some considered him the black sheep, others loved him."
Like his illustrious uncle, author Dunnington has lived his own storied life, from writing for a newspaper to serving in the Air Force to working on a presidential campaign. A dreamer in his own right, Dunnington, like Long, believes in achieving great things, whatever your calling may be.
"Whatever those dreams and goals are, don't let go of them. You never want to say later on, 'What if?' Your life has prepared you to realize your dreams."
For more information on Selectively Lawless: The True Story of Emmett Long, an American Original visit http://www.SelectivelyLawless.com.