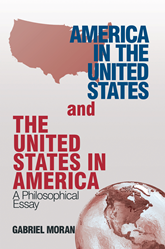 NEW YORK (PRWEB) January 21, 2019
Author Gabriel Moran has long seen the need to distinguish between America and the United States so citizens can understand the true history of the United States and how it has given rise to its present problems. In response to that need, he has released "America in the United States and the United States in America," a philosophical essay that traces the effects of speaking about the United States as if it were the religious dream and the continent of America.
In the book, Moran cites numerous examples to show the importance of distinguishing between "the United States" and "America". Whether we use "America" or "United States" to refer to our country determines how we assign meaning to our sense of nationality. The book is a study of language rather than an historical study. Moran argues his stance that the way we speak shapes the way we think.
"America in the United States and the United States in America" is especially relevant to the current political division within the United States and some of the missteps in its foreign policy. Moran asserts that the failure to consistently distinguish between the nation of the United States and the continent and dream America underlies nearly every political, cultural and economic problem that the country faces.
"I waited fifty years for someone to write this book before deciding that I had to do it," Moran said. "Political campaigns are basically sermons about America instead of plans for how to fix the glaring problems of the United States. The rest of the world would like to deal with a stable United States that can look itself realistically."
With "America in the United States and the United States in America," readers will learn the importance of using the correct language and how our current language pertains to U.S. society and the problems we are experiencing in our government and society today. Readers will be armed with knowledge to help turn around the division and turmoil in the United States.
"America in the United States and the United States in America"
By Gabriel Moran
ISBN: 9781532044472 (softcover); 9781532044489 (hardcover); 9781532044465 (electronic)
Available at the iUniverse Online Bookstore and Amazon
About the author
Gabriel Moran is professor emeritus of educational philosophy at New York University, where he taught in the Department of Humanities and the Social Sciences. There, he also served as the co-director of the Philosophy of Education Program. Moran earned his Ph.D. from Catholic University, Washington D.C. and taught at New York University, Fordham University and Boston College. Moran has published 27 other works on a variety of scholarly subjects. To learn more about Moran, please visit his website at http://www.gabrielmoran.net.
Contact:
LAVIDGE – Phoenix
Kalin Thomas
480-648-7540
kthomas(at)lavidge(dot)com
###