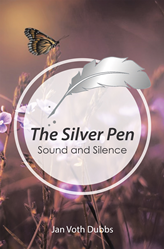 "A number of the poems are exact experiences that I have gone through, however, I chose to write them as perhaps an experience another dear soul may have also endured."
DENVER (PRWEB) December 09, 2019
Author and poet Jan Voth Dubbs has published her debut collection of poetry that illustrates the importance and power of a word. In "The Silver Pen: Sound and Silence" Dubbs uses words as a sculptor uses clay. She draws from her personal experiences of despair and hopelessness to show readers that joy can be achieved even through difficult times.
The author offers a poetic journey that will take readers through several chapters such as: "Sound and Silence," "Struggles," "Depths of Despair" and ultimately, to the chapter on the importance of lifting up the readers eyes to the One who can bring them into peace, hope and the exchanged life. Dubbs expresses this journey as a metamorphosis and demonstrates this in numerous poems.
"My collection of poetry illustrates that most people have despair or difficulties in life. These poetic pieces acknowledge hardships and suggest a way of reframing pain or peace," said Dubbs. "A number of the poems are exact experiences that I have gone through, however, I chose to write them as perhaps an experience another dear soul may have also endured."
Ultimately, "The Silver Pen" will have readers reflecting on their past and will bring peace and comfort to those who are going through adversities and expresses that there is a light at the end of the tunnel.
"The Silver Pen: Sound and Silence"
By Jan Voth Dubbs
ISBN: 978-1-5462-5130-9 (softcover); 978-1-5462-5128-6 (hardcover); 978-1-5462-5129-3 (eBook)
Available through Amazon, Barnes & Noble and AuthorHouse
About the author
Jan Voth Dubbs wants the words in "The Silver Pen: Sound and Silence" to not only bring joy but a sliding into your own memories of even sadness or pain. Perhaps one of these writings will wrap around that wound and bring peace or comfort. Retirement in Colorado has become a blessing of a quieter life with family and solitude, away from a very busy 33 years in a large medical laboratory in New Mexico. She transitioned first through several years as a Licensed Mental Health Counselor. This easily led to a "listening prayer" approach where the Holy Spirit is in charge. Dubbs is now enjoying life with her family and friends in Loveland, Colorado. Writing has been a part of her life for many years and plans to write more books in the near future.
General Inquiries:
LAVIDGE – Phoenix
Grace Bywater
480-648-7534
gbywater@lavidge.com