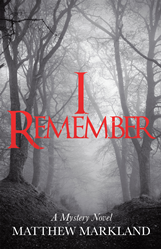 DELAWARE CITY, Del. (PRWEB) February 20, 2023
Thriving in the peace and quiet after moving away from the city, Matthew Markland found his inspiration to write. Combining his love of writing with his fascination with déjà vu, Markland has released his debut book, "I Remember: A Mystery Novel."
The novel follows Leo, who is between the talons of fate when his long-term boyfriend, Sam, attacks and leaves him for dead. Soon after, he starts having fits of déjà vu and the past and present seem more connected than they should be. Leo is left wondering if it is just a weird dream or the work of something more sinister.
"The book originally started as a short story," Markland said. "It was the encouragement and support from my husband that helped me turn it into a full-length book."
With "I Remember," Markland provides representation for the LGBTQIA+ community, through its protagonist and relationships featured in the novel. Markland also incorporated a lot of his own interests and experiences when writing the book.
"I have always found the concept of déjà vu fascinating," Markland said. "It makes the perfect addition to a mystery as well. Paired with the supernatural elements of the book, it keeps the readers guessing."
Markland wants to draw readers into Leo's story and bring them along on future installments.
"I Remember: A Mystery Novel"
By Matthew Markland
ISBN: 9781665736145 (softcover); 9781665736121 (hardcover); 9781665736138 (electronic)
Available at Archway Publishing, Amazon and Barnes & Noble
About the author
When Matthew Markland moved to Delaware City, Del., with his husband, one-eyed cat, and three-legged dog, he quickly discovered that the peace and quiet helped his inspiration to write thrive after moving from the city. Little by little, word by word, he started pouring emotion onto the pages of his debut novel, "I Remember." With a lot of love and a bit of procrastination, he finally completed his work after almost a year and a half of focus and encouragement by his husband. To learn more, please visit https://www.instagram.com/mttmrklnd/.
General Inquiries:
LAVIDGE – Phoenix
Ashley Fletcher
afletcher@lavidge.com