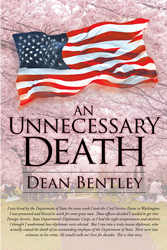 MEADVILLE, Pa. (PRWEB) January 26, 2023
"An Unnecessary Death" by Christian Faith Publishing author Dean Bentley is a compelling work that shares the author's experience when she witnessed the death of an American employee at her first foreign assignment. She realized she was unable to intervene as she was forced to follow State Department's oath for rules of silence. "An Unnecessary Death" is a gripping and potent work that shares the author's firsthand experience of a very terrifying event. "An Unnecessary Death" is the nonfiction account of the published author's observations in the government. Dean Bentley.
Author Dean Bentley was a quiet child who was born in Alabama learned to read early. But when she was five, her family moved to northern Illinois. It was a culture shock for the shy girl. When she was ten, they moved to Michigan. She continued to excel in school. But when she was seventeen, her parents divorced, and her mother insisted she and her siblings move to Alabama, where they lived deep in the country in a small house without plumbing and they had no transportation and very little money. Before that senior year ended, a relative had shared some of Dean's work as editor of her Michigan high school paper with the editor of that small town's newspaper. He was impressed with her work and offered her a job for $1 an hour. Glad to get any job, she accepted but explained to that editor that she was trying to find a way to go to college in the fall.
Within months, she found an amazing opportunity to get that education in Ohio. But that small-town editor suddenly became Mr. Hyde, exposing his evil nature, and fired her at once, claiming he had wanted her to continue working at his paper for $1 an hour, promising within a few years she would have been writing a society column, similar to the work she had written in high school. Not only did he slander her with vulgar lies, but then he used his position, his reputation as a Christian, and his power as a leading businessman to have her blacklisted in Morgan County, Alabama, with those same vulgar lies. Unable to get a job, she ironed for neighbors, kept house, and babysat for her relatives.
Eventually, she got a ride to Washington, D.C., where she was hired by the Department of State to work for some amazing men who saw her true abilities. She was recommended for Foreign Service at 21- years of age. Along with the opportunities and working with highly educated coworkers, she would learn some secrets about politicians and the diplomatic service.
"An Unnecessary Death" refers to an actual incident she witnessed on her first foreign assignment but was unable to report due to the oath of office new Foreign Service employees had to take. That oath made it impossible to interfere or to seek help for the victim. When the man died, that ambitious foreign service officer knew she had heard everything, and for the next sixteen years, he continued to poison her reputation. Some years later, she visited a friend at the embassy in Tokyo, where she made so many friends. There she crossed paths with that madman whose torment had killed an employee of the Foreign Service. Without meeting him, she learned everything he was still saying about her, and she learned the rest of the tragic stories that followed him. It is all covered in this nonfiction book, along with Dean Bentley's suggestions for having the rules changed when someone goes beyond sanity in the Foreign Service. And she urges limiting the use of diplomatic immunity, which should never include crimes of any kind.
Author Dean Bentley writes, "We have to go back a good long way to recognize how 'chance' played a part in much of my life. It was chance that brought my
parents together. My mother was engaged to a young soldier already sent to military training. It was chance that my father was visiting someone in Cullman County, and it was chance that brought my father and his friend walking down a mountain road where my mother lived with her father and his second family. He was tall and good looking. She had a lot of red hair. They both had unhappy childhoods, so from that day until April 1942, a lot of other chances actually got them together at the courthouse in Cullman, Alabama, to get married."
Published by Christian Faith Publishing, Dean Bentley's new book allows readers to hear the author's story that she is now finally able to tell.
View a synopsis of "An Unnecessary Death" on YouTube.
Consumers can purchase "An Unnecessary Death" at traditional brick & mortar bookstores, or online at Amazon.com, Apple iTunes store, or Barnes and Noble.
For additional information or inquiries about "An Unnecessary Death", contact the Christian Faith Publishing media department at 866-554-0919.