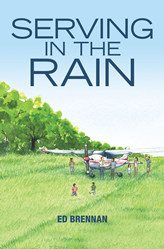 "In a world that seems to offer mostly pain and rejection, God promises us unfailing love, if only we open ourselves to receiving it."
LEEVILLE, La. (PRWEB) January 13, 2020
Author Ed Brennan has released "Serving in the Rain," a Christian fiction novel that follows a young man coming of age in 1970s Little Rock as he overcomes drug addiction and poverty, joins the U.S. Air Force and, ultimately, turns his life over to the Lord.
After growing up in a chaotic household and witnessing both the dissolution of his parents' marriage and his father's violent battle with alcoholism, Eric Brown finds himself struggling with similar problems of substance abuse and toxic relationship patterns. He also turns to drug dealing and pool hustling to make ends meet and provide for his on-again-off-again girlfriend, Erica.
It's not until his relationship with Erica finally comes to a bitter end that Eric decides to leave his past behind and build a brighter future in the Air Force. While he makes great strides in his military career, enjoys numerous adventures abroad and starts a family of his own, he cannot escape his demons. Only by surrendering himself to God is Eric able to overcome his substance dependence, discover a new purpose of service and, most importantly, become a better husband, father and man of faith.
"What I want readers to take away from 'Serving in the Rain' is that redemption is for everyone," Brennan said. "In a world that seems to offer mostly pain and rejection, God promises us unfailing love, if only we open ourselves to receiving it."
A hopeful and encouraging story about one man's turbulent path to redemption, "Serving in the Rain" demonstrates that no person is beyond the reach of God's grace regardless of the mistakes they've made or the heartbreaks they've endured.
"Serving in the Rain"
By Ed Brennan
ISBN: 9781973656173 (softcover); 9781973656166 (electronic)
Available from Amazon, Barnes & Noble and Christianbook.com
About the author
Ed Brennan has not only been fortunate to serve in the United States Air Force but also to be a pilot of general aviation aircraft. While serving in the military, he was able to have many adventures, meet the love of his life and finally find redemption in a way that inspired him to write about it.
Review Copies & Interview Requests:
LAVIDGE – Phoenix
Leslie Standridge
480-998-2600 x 586
lstandridge(at)lavidge(dot)com