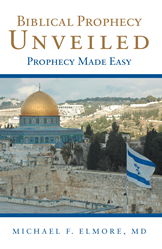 INDIANAPOLIS (PRWEB) January 14, 2019
The Bible is God's revealed message to humankind in which he shows believers their eternal future through prophecy, which at times can be quite complex and tough to decipher. Christian author and physician Michael F. Elmore, M.D. has released a simple, concise book that offers new understandings and insights on the prophecies of the Bible entitled "Biblical Prophecy Unveiled: Prophecy Made Easy."
In the book, Elmore delves into the complexities of biblical prophecy and provides an easy-to-follow guide to understanding what God has laid out for his children. He explores prophetic themes like judgment, discipline, restoration, sovereignty, warning and messianism and explains them through the lens of God's incredible love for humankind.
Elmore said he was inspired to write the book for people who had trouble understanding biblical prophecy and believes the prophecies from God should be accessible to everyone, from the layman to the scholar.
"My nephew once told me that the Bible could be difficult to understand," Elmore said. "He said someone should write a book that clearly explains the Bible and its prophecies. The more I considered it, the more I became convinced I should be the one to write that book."
Every Christian knows God wants them to be prepared for the end times and biblical prophecy reveals exactly what believers need to know in order to face the future unafraid. "Biblical Prophecy Unveiled" will help readers plainly understand how to ensure salvation on the day Jesus returns.
"Biblical Prophecy Unveiled: Prophecy Made Easy"
By Michael F. Elmore, MD
ISBN: 978-1973629894 (softcover); 978-1973629887 (electronic)
Available at Elmore's website, the Westbow Press Online Bookstore and Amazon
About the author
Michael F. Elmore, MD has been a practicing physician since 1977 who specializes in gastroenterology. He is the former CEO and president of Indianapolis Gastroenterology, and he is the past president of the Indianapolis Gastroenterology Research Foundation. Elmore has also taught medical students and residents as an associate clinical professor of biochemistry and medicine at the Indiana University School of Medicine, and he serves on the board for People Helping People, an organization that facilitates mission trips for humanitarian aid. Elmore has also published other books including "A Christian Physician Looks at Stress and Healing", "Stress and Spirituality, Conquering the Stress of Life and Achieving Your Spiritual Potential" and "The Ancient Path: Rediscovering Manhood."
Contact:
LAVIDGE – Phoenix
Kalin Thomas
480-648-7540
kthomas(at)lavidge(dot)com