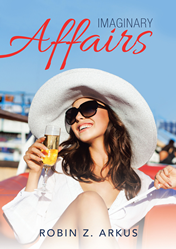 "["Imaginary Affairs" is] an engaging, briskly paced tale of a woman's quest for love and fulfillment that's bolstered by a large cast of characters and a wicked sense of humor." - Kirkus
MIAMI (PRWEB) November 04, 2019
Author Robin Z. Arkus' debut novel, "Imaginary Affairs," draws from her own experience to depict the luxurious, champagne-filled life of a recently widowed woman who journeys across the world in search of new direction and a new love.
Mallory Hill has lost two husbands—one to divorce and one to death—and her relationship to a happily married man is going nowhere fast. Facing her 50th birthday, she decides to set off for Thailand to treat herself to a relaxing spa vacation.
While at the spa, she meets Brad Miller, who is everything Mallory has ever wanted in a man; she is completely convinced he is her "Husband Number Three." But after Mallory returns to her home in Cannes, France, where she and Brad agreed to reunite and start their lives together, Brad's calls become more and more delayed and their plans begin to constantly fall through.
Despite Brad's growing absence, Mallory doesn't find herself romantically lacking as she has flings, flirtations and casual sex with many other men. She lunches and gossips with her friends who are leading their own complicated lives and basks in the sun-drenched Cannes seaside, all while waiting for the arrival of her Husband Number Three.
Like Mallory, Arkus has also traveled the world, as well as experienced loss and the discovery of new love. "I was so fortunate to have lived such an amazing life with my first and second husbands. My first and I opened a photography gallery, a fairly new concept in the United States at the time. Then, I traveled the world with my second husband for several years before he, too, passed. I moved to London eight years afterward, where I met and married my own Husband Number Three 10 years ago. Our life is one ongoing adventure, with lots of travel, homes, and time spent with his children and our six grandchildren!"
Kirkus Reviews praises the book: "… an engaging, briskly paced tale of a woman's quest for love and fulfillment that's bolstered by a large cast of characters and a wicked sense of humor. Mallory is a winsome heroine whose gregarious and adventurous personality attracts a wide range of friends and potential suitors."
"Imaginary Affairs" is sure to take readers on a fun and breezy ride. Mallory's adventures will remind readers that life does not end after a love lost and that it is important to get away sometimes to live life on their own terms. Aging disgracefully—that's Mallory's style!
"Imaginary Affairs"
By Robin Z. Arkus
ISBN: 9781684703722 (paperback); 9781684703715 (e-book)
Available at the Lulu Online Bookstore, Amazon and Barnes & Noble.
About the Author
Raised in Cape Cod, Massachusetts, Robin Z. Arkus has had a varied career as an entrepreneur, art dealer, freelance journalist and traveler. She currently divides her time between London and Miami and travels with her husband all over the world. "Imaginary Affairs" is her first book. To learn more about Arkus and the book, please visit http://robinzarkus.com.
Contact:
LAVIDGE – Phoenix
Kalin Thomas
480-648-7540
kthomas(at)lavidge(dot)com