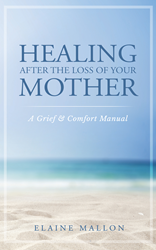 We knew and loved our mothers our whole life. It's no mystery why losing them hurts so much and why it takes so long to heal.
LOS ANGELES (PRWEB) January 08, 2019
Author Elaine Mallon has released "Healing After the Loss of Your Mother: A Grief & Comfort Manual" ($14.95, paperback, 9781733538909; $9.99, ebook, 9781733538930), a practical, step-by-step guidebook for those mourning the loss of their mother and for supporters hoping to help a loved one through grief. It is a book of comfort, guidance, and hope.
Mallon's insight into grief comes from the heartbreaking experience of losing her mother suddenly and unexpectedly. Devastated and unprepared for how life-changing and painful processing the loss would be, Mallon found herself wondering: "Where's the manual?" and "How do I do this?"
"This is the book I desperately needed when my own mom died," says Mallon. "It is an essential companion for anyone uncertain about what to do or where to turn after their mother's death."
Like a compassionate friend, Mallon captures the raw, unique pain of losing your mother with empathy, honesty, and eloquence. She guides the reader through each step of the grieving process, offering straightforward answers to many common questions and tenderly addressing fears faced by those in mourning, as well.
This book also offers direction for those hoping to comfort someone who is grieving, by explaining what a person in grief is going through and how to be most helpful to them.
This grief recovery manual provides helpful information on:

What Can I Expect? The List
How Do I Do This? The Process
How Long Will This Pain Last?
Getting A Support System
Shifting Relationships
Identity Crisis
Grief Work vs. Allowing
Coping Tools
Grief vs. Depression
When to Seek Help
Triggers
Surviving the Holidays
The New Normal
The Path Toward Healing
What To Do/What Not To Do for Someone Grieving
Grief Community Forum Q&As
BONUS: Personal Journaling Section
To those feeling overwhelmed and lost, Mallon adds, "If you're grieving, you're healing—and you are not alone. We will walk this together."
Elaine Mallon is an award-winning public relations and marketing veteran who began her professional career in entertainment publicity where she was a publicist for MGM/UA Television and CBS Television, and later became Vice President, Media & Corporate Relations at 20th Century Fox Television. She established Healing After The Loss of Your Mother – Grief Support, an online group and sacred space for those seeking comfort & community through their loss.
"Healing After the Loss of Your Mother: A Grief & Comfort Manual" is available at Amazon.com (paperback and Kindle editions), and also via Smashwords.com—the leading distributor of indie ebooks—and its retail channel partners including Barnes & Nobel, Apple, Scribd, Kobo, Baker & Taylor's Blio.com, and others in the global marketplace.
To buy now, click here: https://www.amazon.com/Healing-After-Loss-Your-Mother/dp/1733538909/ref=sr_1_1?ie=UTF8&qid=1545410312&sr=8-1&keywords=elaine+mallon+book
For more information, please visit: http://www.HealingAfterTheLossOfYourMother.com.
Press Contact:
Elaine Mallon
Email: info(at)HealingAfterTheLossOfYourMother(dot)com