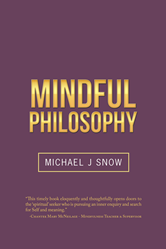 "I hope readers come to learn that every one of them has a divine essence and they can quite simply prove that to themselves if they want to." - Michael J Snow
SAFFRON WALDEN, England (PRWEB) February 03, 2020
Instead of turning to a religion, pastor or holy book, people are beginning to seek their own connections and interpretations of the spiritual world around them. Author Michael J Snow empowers readers to do this in "Mindful Philosophy," a timely spiritual guide that seeks to undo the limitations organized religion has put on humankind, helping readers realize their spiritual potential and achieve a happier state by discovering and harnessing their divine essence through the art of mindfulness.
In the book, Snow argues that organized religion is deceptive in that it limits humans' spiritual capability and forces them to live according to their respective scriptures and belief systems. Snow's goal is to help people expand their spiritual capability, breaking down the concept of mindfulness, explaining how it is a part of us all and that practicing it is vital on a path to wellbeing and spiritual realization.
He provides examples of practicing mindfulness from across the globe, derived from many traditions, eras, cultures and religions. Readers can work through the provided exercises, learning how to approach this vast subject with an open mind and heart. Snow approaches mindfulness and spirituality in an inclusive and nonjudgmental way and wants readers to know how accessible this subject is to anyone seeking spiritual awakening or recharging.
"I would like to help people realize they may have been sold short by organized religions holding on to their limited view of Scripture and spirituality," Snow says. "I hope readers come to learn that every one of them has a divine essence and they can quite simply prove that to themselves if they want to."
Reviewers from Blue Ink Review, Kirkus, and Pacific Book Review as well several other figures in the spiritual and mindfulness field hail "Mindful Philosophy" as "an engaging read for anyone interested in human spirituality but indifferent toward organized religion". The US Review of Books called it "a very significant work that potentially will be embraced by people of varying beliefs and traditions who choose to accept that we are all one. This is the message of non-duality… This is a book to be savored."
"Mindful Philosophy"
By Michael J. Snow
ISBN: 9781728387611 (softcover); 9781728387604 (electronic)
Available at AuthorHouse, Amazon and Barnes & Noble
About the author
Michael Snow has studied and practiced mindful philosophy, or the philosophy of nonduality, for over 30 years and taught them for 20. His time singing in a boys' choir in a cathedral served as the foundation for his spirituality and life purpose. His studies have brought him to the view that nonduality can be undertaken in a secular manner, and that underpinning all religions lies a unitive or non-dual essence that can be discovered by anyone regardless of religion or culture. Snow now gives talks and holds discussions on these subjects and writes articles for magazines and other publications. He has been practicing meditation since 1968 and believes this is the key area for those interested in mindful philosophy to investigate.
Contact:
LAVIDGE – Phoenix
Kalin Thomas
480-648-7540
kthomas(at)lavidge(dot)com
###