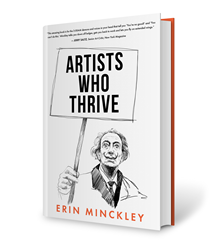 "I wrote this book because I wanted to share some of my trials and tribulations and I felt that there wasn't a book out there designed for artists or creative people to read that gives them a peek into what it is like to have a business mindset and a regard for making money."
CHICAGO (PRWEB) December 22, 2020
As a visually creative person, the image of the starving artist sacrificing money for the sake of art didn't sit well with Chicago businesswoman Erin Minckley.
Minckley, who manufactures hand screen printed wallpaper through her company Relativity Textiles and the woman behind the new book "Artists Who Thrive," wants to empower artists to not only follow their creative dreams but also promote their best work—themselves as successful entrepreneurs.
"I wrote this book because I wanted to share some of my trials and tribulations and I felt that there wasn't a book out there designed for artists or creative people to read that gives them a peek into what it is like to have a business mindset and a regard for making money," she said.
Her journey into becoming a business owner began in 2015 as a mother of two boys who was working three jobs to pay the bills and students loans while her 10-year marriage disintegrated. Minckley funded Relativity Textiles through Kickstarter, raising $21,000 in 60 days.
"When my husband moved out, it was a massive transformation and I had to figure out how to make things work ASAP," she said. "So, I used to joke that I would have done anything to make sure that my wallpaper company succeeded even if that meant me standing on the corner dressed up like the Statue of Liberty shaking a sign that read: 'Wallpaper for Sale!'"
So, she began networking to get the word out and it worked. She wondered if artists could network, generate leads and market themselves just like professionals from other industries.
"It's taboo in our field because no one says 'I made this artwork, I am selling it for $1,000, and you should buy this right now before it's gone.' As artists, we rarely promote our own work," she said. "We actually wait for someone to sell our things or to validate us or to write our articles. We don't know how to pitch our stories. That attitude stops with this book."
The book is divided into three sections: Learning Resilience, Creating New Relationships and Achieving Results. The first section focuses on mindset, the second on personal networking and time organization and the third is about mastering your mission, your work habits and writing your legacy.
"I look at these sections as a three-dimensional object," she said, "I have a picture of a cube that you would see in art school or a high school art class. Instead of the dimensions being length, width and height they are, to me, money, time and space. With this book, I'm asking artists what kind of stories they want to tell about themselves and what kind of work do they want to make. They then need to carve out time for their art, share it with people and find a way to make it profitable."
"Artists Who Thrive" is now available on Amazon.com. For more information on the author, visit
http://www.profitablartist.org.
About "Artists Who Thrive"
This is a bold and honest account of one woman's journey from starving artist to entrepreneur. Filled with anecdotes and advice about how to make it in the world as a "creative" person. Whether you're a painter, a musician, a writer, a chef, a dancer, or a stay-at-home mom who yearns to leap into a new career, this book is for you. Being a starving artist is a choice just as much as becoming a thriving artist is a choice.
About Erin Minckley
Minckley is a visual artist based in Chicago, IL and a mother of two boys. With an MFA in Fiber and Materials Studies from the School of the Art Institute of Chicago (SAIC) she has taught college art, worked in print manufacturing and consulted large textile brands. Minckley uses her graduate-level research and print techniques to design globally inspired motifs with cultural narratives that span the globe. She founded Relativity Textiles in 2015 with the help of a Kickstarter campaign, raising $21,000. Her drawings and hand-painted artworks are the basis for each design. She continues to show her work in galleries and exhibitions around the country and teaches online courses for artists on Teachable.com. In the spring of 2021 she will finish her certification from the Academy of Coaching Excellence in California as a Life Coach and will offer one-on-one coaching sessions for artists who want to learn how to thrive.