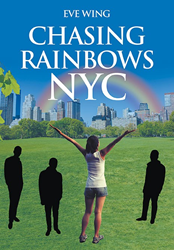 "'Chasing Rainbows NYC' is an adventurous thriller that delves into the psychology of ambition, greed, failure, and modern womanhood through a highly compelling structure and sharp, evocative prose." - Charles Asher, reviewer
NEW YORK (PRWEB) November 06, 2018
When the body of a beautiful young woman is found in New York's Central Park, the NYPD centers on three suspects: Ariella's husband Gusti, her past lover Gael, and her latest lover Jesse, a married man.
This sexy thriller about love and loss in The Big Apple takes a dark turn when aspiring writer Arielle enrolls in a writing class and meets Jesse, a handsome Wall Streeter, who's already married. Gael is an oversexed confidence man from her past who's involved in some shady dealings with other people's money. After these two losers, she meets and marries Gusti, a straight-forward sexy guy who runs his own public relations firm.
Two years into her marriage, someone shoots her to death in the heart of New York City. Just when the investigation starts to go cold, an unexpected lead points to her killer and the very surprising reason for her murder. Whodunit?
Reviewer Charles Asher says, "Re-envisioning classic noir tropes in a new, feminist context, 'Chasing Rainbows NYC' undercuts a reader's assumptions and presuppositions about womanhood, ambition, and romance, drawing us into a complicated web of betrayal and death that is sure to keep you turning page after page. 'Chasing Rainbows NYC' is the perfect book for fans looking for a gripping, new take on this classic genre."
Watch the video book trailer at: https://youtu.be/2GMI1nIQVqY
About the Author: Eve Wing grew up in Vienna, Austria, and was sent to live in Nottingham, England, during World War II. She was repatriated back to Vienna, where she married an American who brought her to the States 50 years ago. Long retired from the movie and music business in Hollywood, she now teaches bridge.
"This stunning thriller will hook readers from the very first to the last page. Its characters are thoroughly fleshed out and come to life in this intriguing drama. We are proud to be the publisher," said Robert Fletcher, CEO of Strategic Book Publishing and Rights Agency.
CHASING RAINBOWS NYC (ISBN: 978-1-948260-02-2) is now available for $30.50 and can be ordered through the publisher's website:
http://www.sbprabooks.com/EveWing or at Amazon.com or Barnesandnoble.com.
WHOLESALERS: This book is distributed by Ingram Books and other wholesale distributors. Contact your representative with the ISBN for purchase. Wholesale purchase for retailers, universities, libraries, and other organizations is also available through the publisher; please email bookorder(at)sbpra.net.