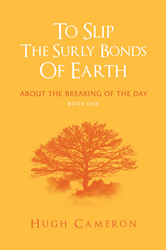 TORONTO (PRWEB) March 09, 2020
Dr. Hugh Cameron has published the exciting first installment in his debut series that examines how and why empires fall – a phenomenon that has already occurred five times in China and five times in the West. In "To Slip the Surly Bonds of Earth: About the Breaking of the Day," Dr. Cameron twines science fiction with alternative history to imagine a future in which, following the decline of society on Earth due to a nuclear holocaust, space colonies serve as repositories of knowledge until civilization begins to recover from its Dark Age.
A compelling story led by an eclectic cast of strong, female characters, Dr. Cameron's book demonstrates how established empires are destined to rot from within when they experience a loss of belief and self-confidence, allowing enemies to eventually stroll over their undefended walls.
"The concept of empires 'falling' has always piqued my interest – it's a multifactorial phenomenon, but the end result is always the same," Dr. Cameron said. "My goal with this series is to examine that, and even go further into the unknown realm of what the imminent fall of the West might look like in our very real future."
Ultimately, "About the Breaking of the Day" postulates that the real-life collapse of the West is imminent and asserts that current weapons available on Earth, both physical and biological, are powerful enough that any war to come will be very destructive. Dr. Cameron's book is also steeped in complex social and political commentary that will keep deep thinkers on the edge of their seats.
"To Slip the Surly Bonds of Earth: About the Breaking of the Day"
By Hugh Cameron
ISBN: 978-1-7960-5323-4 (softcover); 978-1-7960-5322-7 (e-book)
Available through Xlibris, Barnes & Noble and Amazon
About the author
Dr. Hugh Cameron is an orthopedic surgeon. Born in Scotland, Dr. Cameron graduated from St. Andrews University and received post-graduate training in surgery in Toronto, where remains in practice. He was at the forefront of the development of what is now the standard of permanently fixing artificial joints to the bone. Dr. Cameron was in large part responsible for the development of several widely used artificial hips and knees, some of which remain in use 30 years after their development. For more than 30 years, he and a group of other orthopedic surgeons taught these revolutionary techniques around the world. For more information, please visit http://www.doctorcameron.com.
General Inquiries, Review Copies & Interview Requests:
LAVIDGE – Phoenix
480-648-7557
dgrobmeier@lavidge.com