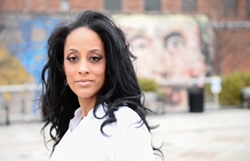 "This is just the beginning. The book is the first step but the principles it is based on offer a new way of living!"
ATLANTA (PRWEB) November 01, 2021
In an industry that is worth $10.4 billion, how does a new personal development coach stand out? The answer is not pivot; no because pivoting is not enough. The answer IS to break all the rules, all the habits, and all the "learning" you have followed to get to where you are today, according to manifestation coach Geneva Sanders.
The ask is big, but not without merit or guidance. Geneva's new interactive book titled, "Unlearn: Move from Surviving to Thriving" sets the groundwork to the life-changing, internal, and spiritual healing, and energy shifting that sets Elevated Shifting apart. "If peace of mind and positivity is what you're looking for, then you won't want to miss out on Elevated Shifting," states a recent client. And the book is just the starting point. Geneva follows this up with an asynchronous course, "The Shortcut" to one-on-one coaching and there's even more in the pipeline.
Much like somatic therapy, Geneva incorporates the mind, body, spirit, habits, experiences, dreams and perceived failures and successes as the guide for individualized development and introspection. A student said of Geneva, "It feels like I had a virtual session with a therapist and spiritual guru." Combining energy shifting, vibrations, unpacking belief systems, and their connections to those energies and vibrations, and one's interpersonal relationships, Geneva guides individuals towards their full potential of high functioning energy, which creates deliberate abundance of health, wealth, and relationships individuals actually desire.
Geneva shares insight into her personal journey with the book Unlearn, as if she is sharing stories while chatting with you a coffee shop. She continues to create unique and individualized connection from "The Shortcut" into her coaching; from her open heart, being a mother to four daughters, having braved this journey once before, or her genuine dedication to your happiness, an enigmatic shift in energy is felt the moment she walks in the room - or pops on the zoom call! This honest trust and rapport aid the success of her students. She is described as "Your empowerments coach and spirit guide."
"This is just the beginning. The book is the first step but the principles it is based on offer a new way of living" Geneva says. With the current state of uncertainty all around us, it is vital that we shift our perspectives to live our best lives; we are grateful this is only the beginning!"
Catch up with Geneva and Elevated Shifting at http://www.elevatedshifting.com or by searching for Elevated Shifting on these social platforms:
https://www.facebook.com/elevatedshifting/
https://www.instagram.com/elevatedshifting/
https://www.linkedin.com/in/elevated-shifting-a252a01ba/
https://twitter.com/ElevatedShift
Weeping Willow Rock LLC
dba Elevated Shifting
275 Lawrence Street NE, Set 45
Marietta, GA 30061
email: admin@elevatedshifting.com
phone: (404) 867-4172
For more information or to interview author Geneva Sanders contact:
Enchanted Branding & Public Relations
Christal Jordan
christal@enchantedpr.net | 678-499-0297
©2021 Enchanted Branding & Public Relations | Atlanta, GA