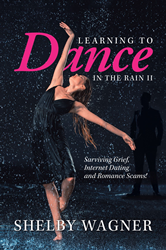 "A lively guide for late-in-life singles." – Kirkus Reviews
STURGIS, Mich. (PRWEB) May 03, 2021
Nothing is quite so devastating in life as the death of a loved one, and for most people, the process of grieving and healing can be a complex, vulnerable, and challenging time. In the latest edition of author Shelby Wagner's uplifting guidebook, "Learning to Dance in the Rain II: Surviving Grief, Internet Dating and Romance Scams!", Wagner shares her journey to healing after the death of her husband, subsequent experiences re-entering the dating world, and helpful resources that seniors who are widowed and dating late in life can use to protect themselves.
"Learning to Dance in the Rain II" sends an uplifting message that encourages readers to overcome life's obstacles, get out of their comfort zone, and pursue an active lifestyle all while also securing themselves physically, financially, and emotionally. Wagner empowers others to keep themselves safe and enjoy a new stage of life and all the possibilities that come with it.
"My original inspiration for writing this book was getting scammed myself while online dating and hoping I could help solve this problem," Wagner said. "I knew that I couldn't share my story of being conned without also talking about my experiences grieving the death of my husband. As I wrote about the grief, I thought about the many survivors who die shortly after their spouses due to the immense loss, and that became another reason to write the book. People need to grieve so that they can move on. I want to remind others that, if you're above the grass, you still have life. Don't give up and die too."
Ultimately, Wagner's story demonstrates how, after a loved one dies, grief is necessary for healing, and healing is necessary for survival. In "Learning to Dance in the Rain II," Wagner draws on her 78 years of life experiences, which she carefully weaves into informative discussions about topics such as quality decision-making, self-awareness, and lifestyle comparisons so that readers can determine what they want to be "when they grow up."
"She approaches her readers with understanding and empathy, offering gleanings from a variety of references. Even the shyest widow or widower is likely to be engaged by her approach to online dating, which defines email, texting, and online chat and provides exhaustive pointers for avoiding scammers. … A lively guide for late-in-life singles." – Kirkus Reviews
"Learning to Dance in the Rain II: Surviving Grief, Internet Dating and Romance Scams!"
By Shelby Wagner
ISBN: 978-1-6641-4590-0 (hc); ISBN: 978-1-6641-4589-4 (sc); ISBN: 978-1-6641-4588-7 (e)
Available through Xlibris, Barnes & Noble, and Amazon
About the author
Shelby Wagner is a professional who cares. Now retired, Wagner's work experience includes: 25 years in the elementary classroom teaching all subjects including music; 60 years as a church organist and music director of choirs from pre-school through adults; and many years as a Sunday School and Bible teacher of all ages. She is still actively involved in community events as an entertainer. Born in a humble farmhouse in Arkansas and the first of three children, Wagner's family relocated to Michigan where she grew up, married, and raised two children. In retirement, she and her husband moved to the Smoky Mountains until he died in 2016. Wagner now resides in southwest Michigan and enjoys being close to her family. She has been interviewed on The Authors Show, The Erica Latrice Show, and Beyond Confidence for Success, among others. To learn more, please visit http://www.learningtodanceintherain.org or connect with the author on Facebook, Twitter, YouTube, and LinkedIn.
General Inquiries, Review Copies & Interview Requests:
LAVIDGE – Phoenix
Danielle Grobmeier
480-648-7557 | dgrobmeier@lavidge.com