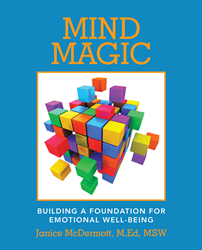 "There are a lot of people suffering from anxiety and have psychological needs that they don't know how to meet," said McDermott. "My new book and workbook can provide a roadmap that will guide individuals to managing life's challenges and communicating with themselves with compassion."
CARRIERE, Miss. (PRWEB) November 16, 2021
In Janice McDermott M.Ed MSW's newly released book, "Mind Magic: Building a Foundation for Emotional Well-Being," she shares and supports readers feeling confident in themselves to achieve satisfaction. Throughout the book, McDermott streamlines the power of the imagination through 18 lessons that meet National Language Arts Core Curriculum standards.
The book can be beneficial for any school and any individual. It introduces groundbreaking mindfulness lessons, reduces learning barriers, produces successful emotional and behavioral outcomes, increases self-esteem and ethical, responsible behavior and facilitates addiction prevention and intervention programs. The author's guide only takes ten minutes a day or 25 minutes once a week will empower individuals, pre-teens to adults, with skills to make smarter choices and achieve good mental health.
McDermott applied these practices in various schools in Mississippi and Louisiana, showing a reduction in discipline problems, a calmer atmosphere and guiding kids on the right track academically. Not only will "Mind Magic" help students and teachers but it can also be used as a bonding experience for families, homeschool, hospitals, churches among more.
"There are a lot of people suffering from anxiety and have psychological needs that they don't know how to meet," said McDermott. "My new book and workbook can provide a roadmap that will guide individuals to managing life's challenges and communicating with themselves with compassion."
Ultimately, "Mind Magic" will raise awareness of the importance of emotional well-being. In addition to the book, readers can also utilize the workbook that will empower them to be grounded through life's obstacles.
"Mind Magic: Building a Foundation for Emotional Well-Being"
By Janice McDermott M.Ed MSW
ISBN: 978-1-9822-6753-7 (softcover); 978-1-9822-6751-3 (eBook)
Available at Balboa Press, Amazon and Barnes & Noble
About the author
Janice McDermott M.Ed MSW received both her Masters from Louisiana State University, and her Gestalt Diploma from the Gestalt Institute of New Orleans with additional years of training at the Esalen Institute of California. She is a licensed teacher, a School Social Work Specialist, a Clinical Social Worker and Diplomate, a certified Master Neurolinguistic Practitioner and an Affiliate of the American Association of Pastoral Counselors. McDermott has been teaching patterns of communication and her Sacred Trust: Inner-Child™ model since 1997. In addition, she co-authored the classroom edition (' 06) and the counselor's edition (' 12) of Grand Ideas from Within™, a language enhancing mindfulness program for pre-teens and adults—introduced first in Louisiana and Mississippi schools as a substance abuse prevention program. She is has written several books such as "Healing Mind: Five Steps to Ultimate Healing, Four Rooms for Thoughts" and "Mind Magic: Building a Foundation for Emotional Well-Being," which she wrote with Joan Stewart, MSW. To learn more, please visit https://www.emotionalmindtraining.com/.
General Inquiries:
LAVIDGE – Phoenix
Grace Connor
gconnor@lavidge.com | 480-998-2600