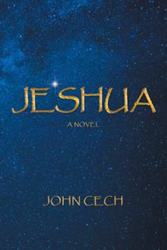 GAINESVILLE, Fla. (PRWEB) November 07, 2018
What if, one day, an ancient manuscript was discovered that was written by Jeshua ben Joseph (whom people know today as Jesus of Nazareth), and that these pages were an account of his perilous journey, from infanthood to manhood? This is the premise of John Cech's new novel, "Jeshua" (published by Archway Publishing), which follows the experiences of the boy and young man who would become one of the world's most important spiritual leaders.
"Jeshua" sheds a brilliant light on many of the questions about the "lost" years of Jesus after he disappears from the historical record for the second time when he is 12, until he reappears in Galilee when is he is nearly 30 years of age. Why did he vanish? Where did he go? What did he do during these formative years? Who were the Magi and why did they seek him out after his birth? How did he acquire the powers that led him to become a famous healer and miracle-worker? From whom did he learn the transcendent values of compassion, forgiveness and love that were nowhere to be found in the cruel, unforgiving world into which he was born?
Based on extensive research and infused with imaginative energy, "Jeshua" offers surprising answers to these and many of the other questions that linger around the identity and experiences of Jesus. From its compelling opening pages, this novel invites the reader to travel through the dangerous, turbulent times during which the remarkable young Jesus lived his life.
To purchase and know more about the book, readers can visit https://www.amazon.com/Jeshua-John-Cech/dp/148086126X.
"Jeshua"
By John Cech
Hardcover | 6 x 9in | 400 pages | ISBN 9781480861268
Softcover | 6 x 9in | 400 pages | ISBN 9781480861275
E-Book | 400 pages | ISBN 9781480861282
Available at Amazon and Barnes & Noble
About the Author
John Cech is an award-winning author of fiction, drama, poetry, and criticism for adults and young people, including "Angels and Wild Things," a study of the work of Maurice Sendak, and the novel, "A Rush of Dreamers, Being the Remarkable Story of Norton I, Emperor of the United States and Protector of Mexico." He is the recipient of the Anne Devereaux Jordan Award for his contributions to literature for young people as a "creator, scholar and public intellectual." Cech is a professor of English at the University of Florida. Readers can follow him at http://www.johncech.com.