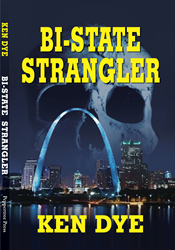 A look into this mans mind will give the reader a knowledge of the mindset and methodology of a serial killer. He didn't have to kill these women...he wanted to, - Ken Dye
TAMPA, Fla. (PRWEB) August 27, 2020
Author Ken Dye is releasing a new book, The Bi-State Strangler, which is a deep dive into the investigation of a serial killer in Missouri and Illinois from 2000 to 2002. Harry Hegger, head of the St. Louis Police Task Force believes there are at least 17 victims, possibly up to 30.
Dye chronicles the findings and eventual capture of this murderer in this book. According to Dye, "As is often the case of a sexual psycho, he had a feeling of invincibility. He'd gotten away with killing at least 17 victims and then wrote a letter to a St. Louis Post Dispatch reporter. It was the beginning of the end." The kicker is the suspect committed suicide before his trial, so much is unknown.
The author, Ken Dye, worked as an undercover narcotics detective in St. Louis County. He publishes a blog about current crime and law enforcement issues known as Cops Perspective and is active in his community. Dye is also author of What Price Valor, Michael Brown Jr. Didn't Have to Die, Shadow of the Arch and Beyond the Shadow of the Arch, all true crime books.
The Bi-State Strangler is being published by Peppertree Publishing and is available at Amazon and Barnes and Noble online bookstores.
Paperback: 6"x9" 142 pages
Publisher: The Peppertree Press (August 2020)
Language: English
ISBN: 978-1-61493-729-6
About Author Ken Dye
Having grown up in Missouri, Ken Dye graduated from Northeastern Missouri State University (now Truman State University) and served his country. When he returned to St. Louis, he joined the St. Louis County Police Department and served in the tactical operations unit, as an undercover narcotics and homicide detective, and with the intelligence bureaus. After 13 years, he left the St. Louis area and moved to Chicago to work with the Illinois Criminal Justice Authority. He is the author of two crime novels, Shadow of the Arch and Beyond the Shadow of the Arch, non-fiction books, Michael Brown, Jr. didn't have to die and What Price Valor. The Bi- State Strangler is also true crime. For more information about the author,
visit http://www.KenJDye.com
About the Publisher
The Peppertree Press, located in Sarasota, Florida, is an independent publisher created to help authors navigate the ever-changing terrain of book publishing. With a growing international presence, The Peppertree Press has published a number of award-winning books which have been recognized by such prestigious awards programs as the Readers' Choice Awards, the Royal Palms Literary Awards, and the Mom's Choice Awards. The Peppertree Press is located at 1269 First Street, Suite 7 in Sarasota, Florida 34236 and can be reached at (941) 922-2662.