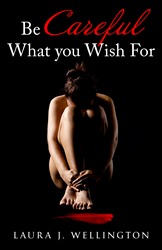 It is Wellington's "Magnum Opus"
MADISON, Conn. (PRWEB) November 12, 2020
As the nation begins to uncover a path that will ultimately lead us to wholeness again as well as "life anew," this epic tale can learn from another released right in the middle of it, "Be Careful What You Wish For".
Hailed her "magnum opus" by one reviewer and "adored" by many others, "Be Careful What You Wish For" is a story about anger, grief, healing...then rising up and finding life anew, stronger than ever before. It is something the United States must now look to do in the aftermath of such a contentious Presidential election.
As the story is incredibly engaging, it seems to double as a literary roadmap to personal and national healing. Wellington points this out in a recent blog post, "The National Tone Captured in 29 Seconds", meant to introduce the book's newly launched ad campaign but diving into the numerous parallels between the book and our current national tone/state.
"At some point, we need to come back together as a nation and be the stronger for it. This book can help guide readers of every party through these necessary stages to ultimately get us there," says Wellington. "It will take time but things like this book can help."
The response to "Be Careful What You Wish For" has been staggering as the mainstream media, podcasters, bloggers, book reviewers, Instagrammers, Tiktokers begin to share their reviews and news about the book. The story is proving to be one-of-a-kind with the film industry already taking notice.
For interviews, articles or review copies, contact Tammy@wordsmatterpublishing.com or Laura J. Wellington at ljwelli@gmail.com.