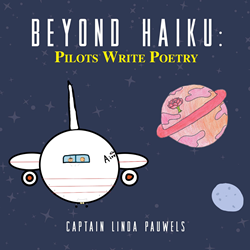 "I've done a lot of projects in my life from flying to teaching. This book project, by far, is the most soulful project I've done."
DALLAS (PRWEB) December 17, 2020
Airline pilots are the human hearts, bodies and souls of flights transporting people and goods to many destinations every day. One captain is using the power of poetic words created by these pilots as the fuel engine to soar into readers' hearts and minds.
Captain Linda Pauwels, instructor pilot on the Boeing 787 and former aviation columnist for the Orange County Register, will debut her new book called "Beyond Haiku: Pilots Write Poetry" by Fig Factor Media Publishing this month. The book showcases 51 original haikus, 20 short poems and seven pieces of philosophical prose from 38 pilots with beautiful illustrations from their children. All of the book's proceeds from "Beyond Haiku" will go to the Allied Pilots Association Emergency Relief and Scholarship Fund, to provide support for pilots furloughed due to the industry effects of COVID-19.
Pauwels said that the book's creation came from participating in an internal pilot online discussion forum five years ago. The initial thread she started was called Morning Haiku.
"I started it because in addition to my being a pilot, I also have academic interests," she explained. "One of those interests is stress resilience. I was doing a Ph.D. program that investigated job stress in airline pilots. I was unable to complete that program because my son had a serious injury. I withdrew from the program but I had started my dissertation. I had a couple of chapters about the effects of poetry on wellbeing and that always interested me."
At first, the thread was not well liked, especially by the mostly male pilots, she added. When Pauwels presented works from famous Japanese and other ancient poets and consulted poetry websites for other materials, those posts piqued participants' interests and they contributed. In fact, the book's poetry came mostly from this discussion thread.
Pauwels' idea for her new work was to for it to be like a chapbook. She explained the term, which dates back to the 1600s, describes small books of poetry with illustrations handed out, sold or distributed to people. The book contains that spirit but with a modern feel.
She sees two kinds of audiences appreciating her book. To readers who work in the airline industry, they will understand the process of pilots writing haikus, personal perspectives of flying, what they see in terms of nature and beauty and slice of life vignettes of things that are important to them, especially love, hearth and home. Those who are outside that audience segment, they will see pilots in a different light.
"I've done a lot of projects in my life from flying to teaching," she said. "This book project, by far, is the most soulful project I've done. I say this because I'm seeing how the children were able to create illustrations in their own style and how they were excited to see them featured in the book. The pilots who have shared their poetry with me, their personal creations- some of these poems are poignant and deeply touching. I felt somewhat overwhelmed that they would entrust me to put all of this together and to share it with others."
"Beyond Haiku" is available on Amazon.com. For more information about "Beyond Haiku", visit http://www.beyondhaiku.com/.
About Linda Pauwels:
Captain Linda Pauwels is an airline pilot. For over three decades she has flown thousands of hours, on many types of big airplanes, all over the world. Linda even counts some aviation "firsts" attached to her name. At present, she instructs and evaluates pilots as a check airman on the Boeing 787 for American Airlines.
Linda was born in San Pedro, Buenos Aires, Argentina. She came to the United States at age six, after the death of her father. Having experienced adversity early on in life, she grew to understand and appreciate the value of resilience. Linda integrates intuition and sensitivity, along with a graduate academic preparation in education, in her professional life.
In the mid-2000s, Linda wrote a regular column, titled From the Cockpit, for the Orange County Register. She has been secretly writing poetry for a while. Linda has been married to Frederick, also a pilot, for almost forty years. They have two adult children, Nathalie and Patrick, domestic animals, and an Asian garden with a bird feeder. The family has a primary base in North Texas, near DFW airport, and a secondary base in South Florida, near MIA. ###