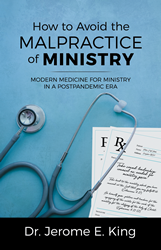 JOHNS CREEK, Ga. (PRWEB) January 30, 2023
Dr. Jerome King offers a new insight into the effects of the COVID-19 pandemic on the church in his new book, "How to Avoid the Malpractice of Ministry: Modern Medicine for Ministry in a Postpandemic Era."
Dr. King offers his insights into ministering in the post pandemic era without compromising the "great commission," delving into purpose-driven church pre-pandemic and post pandemic. Through a medical approach, Dr. King identifies symptoms and diagnoses ministry problems, while providing organizational and practical techniques for transforming ministry.
Using the metaphor of malpractices in the medical profession and lessons learned in the pandemic, Dr. King combines organizational leadership and biblical scholarship to deliver a resource for churches ministries in this new era.
"I have been working as a leadership consultant for almost 30 years," Dr. King said. "When the pandemic hit, churches came to me looking guidance. I wrote this book as a formula to help church ministry guide their congregations."
"How to Avoid the Malpractice of Ministry" urges churches to avoid the malpractice of ministry by taking proactive steps without compromising the church. Dr. King discusses how the best approach to ministry is based on the prayerful implementation of biblical integrity, sound organizational theory, and responsible ministry practice.
"How to Avoid the Malpractice of Ministry: Modern Medicine for Ministry in a Postpandemic Era"
By Dr. Jerome E. King
ISBN: 9781664264595 (hardcover); 9781664264601 (softcover); 9781664264618 (electronic); 9781664277267 (audio)
Available at Westbow Press, Amazon and Barnes & Noble
About the author
Dr. Jerome King has more than 30 years in ministry and leadership experience, having served as a denominational leader, Executive Vice President of Luther Rice Seminary, professor of leadership, church consultant, and a senior pastor. He is an Air Force veteran with two doctorates in his field, a doctorate in ministry from Luther Rice, and a Ph.D. in organizational leadership from Regent University. He graduated Summa Cum Laude with a Master of Science degree in Bible and Ministry from Lubbock Christian University. He resides in the Metro Atlanta area and is the proud father of two adult children. To learn more, please visit https://drjeromeking.com/.
General Inquiries:
LAVIDGE – Phoenix
Ashley Fletcher
afletcher@lavidge.com