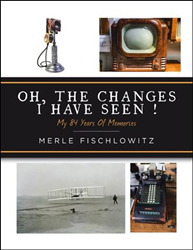 SAN DIEGO (PRWEB) November 11, 2019
Merle Fischlowitz weighs the pros and cons of the rapid changes in technology in his personal memoir titled "OH, THE CHANGES I HAVE SEEN!" (published by AuthorHouse).
Fischlowitz has visual memories of various technologies he has witnessed and used from 1935 through the current times. This inspired him to write a book on how the changes in communications, computing, home appliances, medicine and transportation greatly affected the society.
Fischlowitz also wrote the book to develop concern on environmental issues, such as climate change, that is brought by the rapid technological advancement. A passage of his book reads:
"In addition to the ongoing challenges of climate change, I foresee a three-part conflict among these values: Developing Technology, Social Benefit, and Individual Privacy."
He wants the reader, especially the younger generation, to become more aware of and sensitive to how technical changes in our culture affect individuals and society as a whole. For more information on the book, please visit https://www.amazon.com/Oh-Changes-Have-Seen-Memories/dp/1728322014.
"OH, THE CHANGES I HAVE SEEN!"
By Merle Fischlowitz
Hardcover 8.5x11 in | 78 pages | ISBN 9781728322018
Softcover 8.5x11 in | 78 pages | ISBN 9781728321998
E-Book | 78 pages | ISBN 9781728322001
Available at Amazon and Barnes & Noble
About the Author
Merle Fischlowitz had a professional career as a history teacher and psychologist. He has worked in Missouri¬– his hometown – as well as in DC, Israel and Hawaii. Retired now in San Diego, he enjoys his large family that includes seven grandchildren and four great-grandchildren. Fischlowitz has published three poetry books, a book of short stories and a biography of his wife who is a child Holocaust survivor.