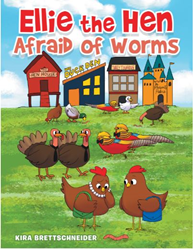 "Many individuals have something they are afraid of and this book will show readers that you can overcome and face your fears in healthy ways, just like Ellie. I hope that parents will read this rhythmic tale to express to their children that they can overcome anything."
LEETON, New South Wales (PRWEB) February 17, 2020
Author and school teacher Kira Brettschneider releases new children's book, "Ellie the Hen Afraid of Worms," which introduces a hen named Ellie who does whatever it takes to overcome her fears. With the help of her pal, Dani, they go on an adventure that helps Ellie find ways to minimize her phobia.
Brettschneider tells Ellie's story with beautiful illustrations that punctuate how scary worms are. Readers will be rooting for Ellie to find healthy ways to cope and will resonate with the hen with fears of their own. The author was inspired to write this children's book because of her own fears.
"I wrote this book because I wanted to show children that everyone has fears," said Brettschneider. "Many individuals have something they are afraid of and this book will show readers that you can overcome and face your fears in healthy ways, just like Ellie. I hope that parents will read this rhythmic tale to express to their children that they can overcome anything."
"Ellie the Hen Afraid of Worms" is a book for all ages and is a great story of friendship and how to conquer one's fears.
"Ellie the Hen Afraid of Worms"
By Kira Brettschneider
ISBN: 9781504315494 (softcover); 9781504315487 (eBook); 9781504317429 (Audio)
Available through Amazon, Barnes & Noble and Balboa Press
About the author
Kira Brettschneider is an author who writes from the heart. Her books are stories about personal experiences, which readers may relate to. Brettschneider is a primary school teacher and her stories have the potential to be used in the classroom as well as favorites for families to read at bedtime.
For general inquiries contact:
LAVIDGE
Grace Bywater
480-998-2600 x 534
gbywater(at)lavidge(dot)com