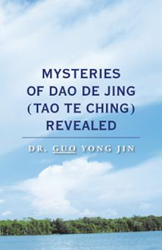 MELBOURNE, Australia (PRWEB) December 04, 2018
After three decades of searching, Dr. Guo Yong Jin found answers to questions like: "Where does life come from?" "Where does death lead us?" "What's the meaning of life?" "What am I doing on Earth?" under the guidance of the Dao De Jing. Guo unravels many myths about Dao De Jing to reveal its wisdom in his new mind, body and spirit book, "Mysteries of Dao De Jing (Tao Te Ching) Revealed" (published by Balboa Press AU).
In his book, Guo points to the Dao De Jing as an invaluable source of wisdom. He discusses how learning of "going beyond dualistic opposition" can solve all kinds of problems. Guo expresses how the Dao De Jing can help individuals to attain real happiness and peace of mind and solve the inner agitation and restlessness, so as to stimulate social harmony. In addition, the author outlines how it can help to resolve the crisis for human survival.
"This book presents the truth of the universe, the reality of life and the characteristics of noble mind," Guo says, adding that he hopes "people can learn the high wisdom of the universe level, and let people's mind elevate from three-dimension to higher level, a world of noble mind. We are all offspring of 'Dao' and we are a community of shared future."
The book is available for purchase at: https://www.amazon.com/Mysteries-Dao-Jing-Ching-Revealed-ebook/dp/B07GYLL2DJ.
"Mysteries of Dao De Jing (Tao Te Ching) Revealed"
By Dr. Guo Yong Jin
Softcover | 5.5 x 8.5 in | 222 pages | ISBN 9781504314107
E-Book | 222 pages | ISBN 9781504314114
Available at Amazon and Barnes & Noble
About the Author
Dr. Guo Yong Jin was born in Taiwan in 1955. He spent three decades studying both religious and secular philosophies, and in 1999 following an earthquake in Taiwan, Guo felt a calling to become a volunteer. He believes humanity needs to become a community of shared life. Guo has also published "The Lectures of Mysteries of Dao De Jing Revealed," "The Wisdom and Application of Dao De Jing," "The Nature Way Meditation," "Agama: The Liberation Path" and "The Profound Meaning of The Heart Sutra."