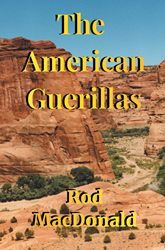 "I made a promise to him that made me begin my first work of fiction. I traveled and met many impactful and interesting people on Native American reservations. Throughout the book, readers will see how I incorporated my experiences within the story."
DELRAY BEACH, Fla. (PRWEB) November 01, 2021
In Rod MacDonald's newly released novel, "The American Guerillas," he pens a story of lovers who must risk everything to solve a mystery that defines their fate. MacDonald provides an alternative view of adult life that highlights the importance of searching for meaning while the main characters are running from a murder chase they did not commit. Readers will be hooked to the never-ending drama that the main characters face.
"The American Guerillas" incorporates the genre of magical realism and vividly paints a gripping plot involving time travel, the tarot and Native American spirituality. MacDonald's story is told through a crime narrative while weaving a loving relationship for any reader to enjoy. Readers will also learn a few things about Native American teachings and how the world is meant to sustain society through the spiritual growth of humanity.
"I rewrote 'The American Guerillas' after the passing of my nephew, Brian," said MacDonald. "I made a promise to him that made me begin my first work of fiction. I traveled and met many impactful and interesting people on Native American reservations. Throughout the book, readers will see how I incorporated my experiences within the story."
As the details unfold, the author has readers questioning how the story will end and who really committed the murder in question. Ultimately, "The American Guerillas" provides a thrilling story of love, spirit and magic on every page.
"The American Guerillas"
By Rod MacDonald
ISBN: 978-1-6657-0373-4 (softcover); 978-1-6657-0374-1 (eBook)
Available at Archway Publishing, Amazon and Barnes & Noble
About the author
Rod MacDonald earned his B.A. from the University of Virginia and his J.D. from Columbia University. While during his studies, he was working as a news reporter for the Hartford Courant and Newsweek. MacDonald began singing in New York City coffeehouses while a student, and as a full-time musician and songwriter, joined the Greenwich Village music scene. He has released 13 solo albums and recorded 21 songs now in the Smithsonian Folkways collection. He has published two novels, one titled "The Open Mike," which is about the kinds of young, dedicated songwriters that MacDonald knew in New York's Greenwich Village, and his newly released book, "The American Guerillas." MacDonald also is a lecturer on music history at Florida Atlantic University and resides in Delray Beach, FL, with his wife and their two children.
General Inquiries:
LAVIDGE – Phoenix
gconnor@lavidge.com | 480-998-2600