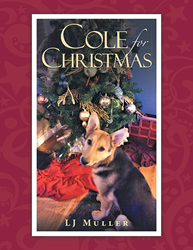 DENVER (PRWEB) November 05, 2018
As the first book in a series, author LJ Muller takes readers on a heartwarming journey in "Cole for Christmas." This book tells a story about a puppy named Cole who was left to fend for himself in an unforgiving environment, often neglected and abused before standing up for himself to make his own choices about his life. Most importantly, it is about the love and risks that people take to ensure that pets have loving and safe homes.
At the end of each book, LJ provides questions that parents or teachers can ask children, generating important discussion on how to take care of animals.
"I never in my wildest dreams thought I would be an author, but Cole's story was so amazing and unbelievable I had to write it," said Muller. "I felt it was a great opportunity to create a learning tool and help homeless animals get a second chance."
Every homeless dog or cat deserves a safe, healthy, and loving home. By teaching this to young children, they can carry these lessons throughout their lives and help reduce the homeless pet population.
"Cole for Christmas"
By LJ Muller
ISBN: 9781504392181 (softcover); 9781504392198 (eBook)
Available at the Balboa Press Online Bookstore, Amazon and Barnes & Noble
About the author
LJ Muller's goal is to help children become responsible pet owners by helping them understand what it means to have a long-term commitment, the dedication it takes to care for a pet, and what happens if they do not care for them. To learn more, please visit http://www.coleforchristmas.net.
###
General Inquiries:
LAVIDGE – Phoenix
Bryan Beach
480-306-6554
bbeach(at)lavidge(dot)com
Review Copies & Interview Requests:
LAVIDGE – Phoenix
Kiersten Woglom
480-998-2600 x 586
kwoglom(at)lavidge(dot)com