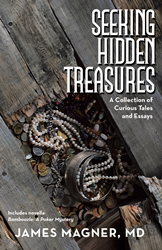 "Most people are intrigued by the prospect of finding hidden riches, be it a box of gold coins, cash, love or something more abstract. The unifying theme of this book is that as we pursue in life what we most value we need to be thoughtful and clever."
NEW HAVEN, Conn. (PRWEB) October 14, 2019
Author James Magner, MD, has published "Seeking Hidden Treasures: A Collection of Curious Tales and Essays." Humorous, heartfelt and cleverly composed, each of the twelve short stories and five essays invites readers along on a hunt for riches, both material and abstract.
Whether searching for buried treasure, securing gold from a shipwreck or smuggling assets past Nazis (a humorous scheme based on a true story), Magner offers a diverse selection of intriguing plots and captivating characters as well as insightful reflection into the human condition. Successful adventures include solving a murder, finding a lost safe and winning at poker. His essays, too, prompt readers to think deeply about the nature of existence and how we may discover our own hidden treasure.
"Most people are intrigued by the prospect of finding hidden riches, be it a box of gold coins, cash, love or something more abstract," Magner said. "The unifying theme of this book is that as we pursue in life what we most value we need to be thoughtful and clever."
"These fascinating 'tales and essays' celebrate a love of learning and a passion for knowledge," wrote Leonard Engel, Professor Emeritus of English, Quinnipiac University. "If your reading tastes bend toward intellectual challenge, you will revel in Magner's mastery."
"A set of cheerful works about searching for gold of all kinds," wrote Kirkus Reviews.
A fun and thoughtful compilation, "Seeking Hidden Treasures" challenges readers to solve mysteries and engage in critical thought about philosophical topics.
"Seeking Hidden Treasures: A Collection of Curious Tales and Essays"
By James Magner, MD
ISBN: 9781480879287 (softcover); 9781480879294 (hardcover); 9781480879270 (electronic)
Available from Amazon, Barnes & Noble and Archway
About the author
James Magner, MD, is the author of "Chess Juggler: Balancing Career, Family and Chess in the Modern World," "Free to Decide: Building a Life in Science and Medicine" and "Seeking Hidden Treasures: A Collection of Curious Tales and Essays." He also has several essays published in Today's American Catholic. He is an avid chess player and a successful amateur poker player with an international reputation. In his professional life, James is an endocrinologist, scientist, pharmaceutical researcher and Professor of Medicine who has dedicated years to studying the pituitary hormone, TSH and endocrine disorders including thyroid cancer.
Review Copies & Interview Requests:
LAVIDGE – Phoenix
Leslie Standridge
480-998-2600 x 586
lstandridge(at)lavidge(dot)com