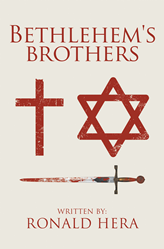 INDIANAPOLIS (PRWEB) January 06, 2020
Author and former missionary Ronald Hera has combined his passion for Christian mission with his love of history in "The Brothers Series," a fictional Christian adventure trilogy set Judea during the first century. The first book in the series, "Bethlehem's Brothers," introduces readers to Enoch and Simeon, who are separated and forced to leave their home in Bethlehem after their father and younger brother are slaughtered during King Herod's Massacre of the Innocents.
As each boy sets out on their own unique course, Enoch a fisherman in Galilee and Simeon a potter in Jerusalem, they encounter numerous challenges. Violent clashes between Roman soldiers and Zealots force Enoch to flee to Alexandria while Simeon's relatively peaceful life is suddenly disrupted by leprosy. However, their divergent paths cross again when they reunite in Jerusalem, Simeon in need of healing by John the Baptist and Enoch in search of the one called Jesus the Messiah.
Through "Bethlehem's Brothers" and the rest of the series, Hera provides a fascinating look at the beginnings of the Christian Church and how it was able to grow despite Roman and Jewish opposition. Additionally, Hera also wanted to illustrate how people of the time received Jesus, both positively and negatively, and how they came to believe that he was, indeed, the Messiah.
"For about 10 years, I was the Director of Development for Ghana Christian Mission. In my role, I had many people inquire how, when and where The Church started," Hera said. "I thought that these questions were worth investigating and writing about in an exciting, interesting way."
"This is a good first book…it's clear the historical context has been well researched and that the author is knowledgeable about the political and religious climate of the time," an Amazon reviewer wrote about the book.
"Bethlehem's Brothers"
By Ronald Hera
ISBN: 9781463431020 (softcover); 9781463431013 (hardcover); 9781463431006 (electronic)
Available from Amazon, Barnes & Noble and AuthorHouse
About the author
Ronald Hera is the author of "The Brothers Series" trilogy. He previously served as the Director of Development for Ghana Christian Mission and spent 11 years traveling throughout the United States promoting the mission to churches and individuals. His inspiration for his trilogy came from his mission work and experience with those who were unfamiliar with the teachings of Christ. He lives in Avon, Indiana, with his wife, Gerri.
###
Review Copies & Interview Requests:
LAVIDGE – Phoenix
Leslie Standridge
480-998-2600 x 586
lstandridge(at)lavidge(dot)com