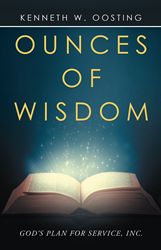 "Our focus is on how people can lead lives that are rewarding, enjoyable and helpful to others," says Oosting.
BRENTWOOD, Tenn. (PRWEB) May 18, 2020
Originally broadcasted on radio and in print media to guide, inspire and motivate thinking and action, Kenneth W. Oosting shares brief essays of wisdom in his new book, "Ounces of Wisdom."
The life enhancing guidebook uses both Christian and secular sources to encourage readers to live a positive life, regardless of their beliefs, by recognizing the various concepts presented in the book. In a world that comes across as negative, there are many things in life to be optimistic about. Oosting offers reflective questions to encourage readers to think about their own lives and to push them to think about their futures.
"Our focus is on how people can lead lives that are rewarding, enjoyable and helpful to others. Most of the quotes from the Bible are good advice for anyone regardless of the status of their faith," says Oosting. "We have included bits of wisdom that range from John Wayne to the Old Testament. They are all designed to get people to think about how these thoughts could positively impact their lives."
The book has received praise from Tom Andrews, owner of Tom A Productions, LLC.
"I have served on several non-profit boards and I have never seen something this potentially meaningful to a person's life happen so quickly. I truly believe that Ounces of Wisdom, with Dr. Ken Oosting's authorship, is a blessing and an anointing. Further, I believe it will be a guiding inspiration to you and me as a reader and practitioner of its Biblical principles." -Tom Andrews.
"Ounces of Wisdom" will help readers apply positive guidelines to their lives as they seek to grow as a person, be a leader in their family and relate with the general public. Readers can find the quotes from the Bible and from secular sources beneficial to living a positive life regardless of their religious status.
"Ounces of Wisdom"
By Kenneth W. Oosting
ISBN: 9781982239374 (softcover); 9781982239398 (hardcover)
Available at Amazon and Barnes & Noble.
About the author
Dr. Oosting grew up in Muskegon, Michigan and graduated from the University of Michigan with a degree in history, received his M.A. from Central Michigan University and his Ph.D. from the University of Minnesota. He has been a high school teacher, college professor, Rotarian, college dean and president as well as a consultant to about 150 Christian colleges and universities. He wrote The Christian's Guide to Effective Personal Management and numerous college and university courses and articles. He and his wife, Jacklyn, reside in Brentwood, TN. To learn more, please visit http://www.ouncesofwisdom.com.
About the editor
Dr. Richard K. Smith is a member of the God's Plan for Service Board of Directors. He grew up in Ohio and earned a B. A. from Asbury College, a B. S. from Nyack College and an M. A. and a Doctor of Missiology from Trinity Evangelical Divinity School. He has served as a pastor in West Virginia, Ohio and Indiana, missionary to Indonesia, faculty member at Toccoa Falls College in Toccoa, Georgia, adjunct faculty for several institutions and ten years as Senior Consultant with Oosting and Associates, Inc. He and his wife Janet, a school principal, live in Pataskala, Ohio.
Review Copies & Interview Requests:
LAVIDGE – Phoenix
Meghan Bowman
480-306-6597
mbowman@lavidge.com