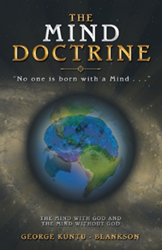 "It is the truth that sets a person free to know themselves. Life is better lived having the love of God within us." - George Kuntu-Blankson
NEW YORK (PRWEB) January 27, 2020
The human mind is a complex machine, capable of processing and understanding the world's most complicated questions—including the question "Who is God? What is God?" Author George Kuntu-Blankson's "The Mind Doctrine: No one is born with a Mind" helps readers understand and dive deeper into that question, allowing them to gain a deeper knowledge and understanding of God's word.
In the book, Blankson delves into the intrinsic and extrinsic meanings of "knowledge" and explains that to be able to know God and truly understand his word and will in the Bible, humans must first become self-aware and prepare their minds to understand Scripture. He stresses the importance of God to our existence, comparing the different states of minds that know God and minds that do not.
Blankson's inspiration to help others get to know God comes from two major turning points in his life which greatly shaped his own faith. "In 1978, I wrote a poem that helped me reaffirm my commitment to seek out God and know him intimately," Blankson recounts. "Then, In 1983 I prayed to God for a sign that he would walk with us during my wife's pregnancy. He proved himself to me exactly how I'd prayed he would. That sealed my faith in God."
One Amazon reviewer praises "The Mind Doctrine" as a "great read… Many of the doubts and questions we tend to only ask ourselves, are discussed in this book. It is like having a conversation with a trusted adviser!"
Blankson's hope is that by reading "The Mind Doctrine," people learn how vital it is for humans to achieve a well-rounded knowledge of God. "It is the truth that sets a person free to know themselves," Blankson says. "Life is better lived having the love of God within us."
"The Mind Doctrine: 'No one is born with a Mind…'"
By George Kuntu-Blankson
ISBN: 9781973619185 (softcover); 9781973619192 (hardcover); 9781973619178 (electronic)
Available at WestBow Press, Amazon and Barnes & Noble
About the author
Born in Ghana, George Kuntu-Blankson holds a juris doctor degree and has been practicing law since 1987. He is a member of the New York State Bar Association and holds degrees from the City University of New York and St. John's University. Blankson is an avid Bible reader, constantly studying and transforming his understanding of God's word. A New York resident, he balances his spiritual life with his desire to increase secular knowledge.
Contact:
LAVIDGE – Phoenix
Kalin Thomas
480-648-7540
kthomas(at)lavidge(dot)com