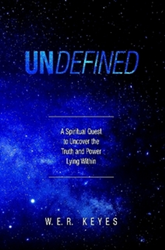 BLOOMINGTON, Ind. (PRWEB) March 12, 2020
In a world experiencing "increasing waves of disruption," "Undefined: A Spiritual Quest to Uncover the Truth and Power Lying Within" (published by Lulu), the debut novel by W.E.R. Keyes, follows the author's quest to confront the unknown depths within to resolve the ongoing chaos in her life. This story of personal transformation is based on the age-old premise: "As within, so without." However, Keyes raises some thought-provoking perspectives as she traverses both the microcosm of the ego-self and the macrocosm of a multi-dimensional being to uncover her truth.
In this account, Keyes reveals the mind-soul conflict between the individual she thought she was and her unknown, true self when she is challenged by her soul's calling. She relives various chapters in her past as she unravels the psychological, and metaphysical meaning of her life. In the process she stumbles through repeated encounters with the unknown to unearth her sub-conscious conditioning and its role in creating her physical reality. She goes through one existential crisis after another, as she questions the very meaning that was the foundation of her entire life. Until at the very brink of sanity, she has to make the most crucial decision of her life — continue with a mere existence as her ego-self or live fully alive by surrendering to her unknown soul path.
Keyes tells readers: "Every individual - no matter their upbringing, heritage, education, social status, bank balance, race, culture, religion, sex, gender – is born with the 'key' to actualize their highest and best life in this physical world. It is the gift of each unique soul. The challenge we face (sometimes, over lifetimes) is to rise above our conditioned selves and honor our individual soul's voice. I hope that my story will inspire others to follow their soul's knowing to overcome the fear of the unknown; to uncover their individual truths and live fully alive in the unlimited potential of being."
"Undefined" is available for purchase online on Amazon at: https://www.amazon.com/Undefined-Spiritual-Quest-Uncover-Within/dp/1684711169.
"Undefined"
By W.E.R. Keyes
Hardcover | 6 x 9 in | 542 pages | ISBN 9781684711185
Softcover | 6 x 9 in | 542 pages | ISBN 9781684711161
E-Book | 542 pages | ISBN 9781684711178
Available at Amazon and Barnes & Noble
About the Author
W.E.R. Keyes was born in Africa and devoted her life to her family and career. She wrote her debut novel during her profound quest — a seven-year healing journey that encompassed a lifetime of experiences. A journey that liberated her to live her best life.
Lulu empowers people of all ages to explore and express their interests, passions and expertise through books, photography and art. Since introducing self-publishing in 2002, Lulu has empowered creators in more than 225 countries and territories to produce nearly two million publications. Lulu Jr. allows children to become published authors, encouraging creativity, strengthening literacy and building self-esteem. Picture.com offers professional photography of collegiate and professional sports, memorable and historic events, fine art and home décor. For more information, please visit lulu.com.