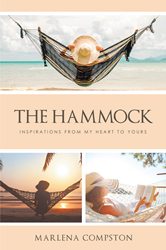 COLLINSVILLE, Okla. (PRWEB) February 13, 2023
Author Marlena Compston holds a deep understanding for the struggles that women can face in life. It was walking through her own trauma, as well as answering the call of the Holy Spirit that brought her peace and healing. Her desire is to share that healing with others in her new book of inspirations and devotions, "The Hammock: Inspirations from My Heart to Yours."
"In 1992 I received a call from God," Compston said. "He not only pulled me out of depression, but also placed a restoration call on my life."
Each chapter of "The Hammock" provides passages from the Bible, paired with devotions intended to help readers find peace and heal their heart, spirit, and mind. Compston added guiding questions and space in the book for readers to write down their own reflections.
"My hammock has proven many times to be holy ground," Compston said. "Many prayers have been prayed in my hammock. Prayers for my family, for direction, wisdom, and healing in my own life, and for salvation and deliverance for others."
The book can be used by readers at any stage of their spiritual journey. It is designed to be an interactive journey for readers, intended to help them work through understanding themselves deeper, either alone or with a group.
"The Hammock: Inspirations from My Heart to Yours"
By Marlena Compston
ISBN: 9781489744883 (softcover); 9781489744876 (hardcover); 9781489744920 (electronic)
Available at LifeRich Publishing, Amazon and Barnes & Noble
About the author
Marlena Compston is an author, speaker, and evangelist with a prophetic call. Her call and passion are for restoration to those seeking emotional and spiritual healing. Marlena holds a bachelor's degree in organizational leadership from the University of Oklahoma. She and her husband, Robert, live near Tulsa, Okla. When she's not writing, she loves to travel and spend time with her family and friends. To learn more, please visit https://www.marlenacompston.com/.
General Inquiries:
LAVIDGE – Phoenix
Ashley Fletcher
afletcher@lavidge.com