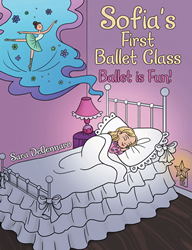 BABYLON, N.Y. (PRWEB) February 06, 2023
A dancer from the age of three, Sara DeGennaro has had a love of ballet for most of her life. Now an instructor who has her own dance studio, she shares the excitement of learning ballet in her new children's book, "Sofia's First Ballet Class: Ballet is Fun!"
Young Sofia shares her excitement with readers as she dons her new pink tutu and ballet slippers in anticipation of her first class. She arrives to meet her teacher, Miss Mary, who teaches the class of budding ballerinas.
"I have students who have gone on to dance professionally in New York City, for Ballet Austin, and the Radio City Rockettes," DeGennaro said. "Once upon a time, they were all young students, excited to chase their dreams on their first day of class, just like Sofia."
In the book, DeGennaro gives readers a sample of the fundamentals of ballet as the ballerinas learn correct posture, proper stretching practices, and introduces important basic poses and first steps.
"I wanted to share my love of dance with a new generation," DeGennaro said. "Dance has such a powerful positive impact. It is an incredible art and sport that teaches discipline, strength, grace, and how to work hard."
DeGennaro wants to inspire children to try new things and leap for their dreams. She plans to continue sharing Sofia's ballet journey in future books.
"Sofia's First Ballet Class: Ballet is Fun!"
By Sara DeGennaro
ISBN: 9781665727877 (softcover); 9781665727891 (electronic)
Available at Archway Publishing, Amazon and Barnes & Noble
About the author
Sara DeGennaro was introduced to ballet at age three, accepted by the prestigious School of American Ballet at eight, and earned the privilege to perform with the school's renowned affiliate, New York City Ballet. DeGennaro also trained internationally with the Royal Danish Ballet, Copenhagen. After a fulfilling and notable career on stage, she returned to Long Island and opened a classical dance school for young girls and boys that's been operational more than 25 years. For more information, please visit http://www.saradegennaro.com.
General Inquiries:
LAVIDGE – Phoenix
Ashley Fletcher
afletcher@lavidge.com