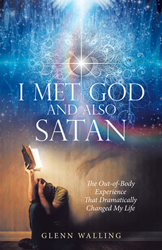 "Recently, God directed me to go ahead and write about the encounter and to present answers to logical challenges along with the story presentation."
MESA, Ariz. (PRWEB) May 17, 2021
In "I Met God and Also Satan: The Out-of-Body Experience That Dramatically Changed My Life" by Glenn Walling, the author examines how he and his college roommate, utilizing the scientific method, tested world-renowned philosopher René Descartes' theory "I think, therefore I am." While testing this theory back in his dorm room in southern California, Walling had a life-changing experience he could never have dreamed possible. In "I Met God and Also Satan," Walling shares the details of this other worldly experience, a surprising venture outside of the boundaries of the physical universe.
Throughout the text, readers will learn about Walling's extraordinary encounter and how he faced the most powerful, unearthly principalities, meeting not only God, but Satan as well. Walling presents his story to an atheist professor as they discuss and deliberate the logistics and arguments surrounding what happened and how Walling did not choose to return to the physical world but was sent back.
"I kept the story of this encounter with God and Satan to myself for decades as I was concerned with credibility," said Walling. "Recently, God directed me to go ahead and write about the encounter and to present answers to logical challenges along with the story presentation."
In "I Met God and Also Satan," Walling presents a firsthand testimony of God's existence while using logic to reach a skeptical audience. This thought-provoking book challenges readers to think outside their comfort zone as they read about this factual event in the author's life.
"I Met God and Also Satan: The Out-of-Body Experience That Dramatically Changed My Life"
By Glenn Walling
ISBN: 9781664207455 (softcover); 9781664207462 (hardcover); 9781664207448 (electronic)
Available at Amazon, Barnes & Noble and WestBow Press
About the author
Glenn Walling has a bachelor's degree in mathematics with an emphasis on logic from Point Loma Nazarene University and has completed significant graduate work in education, business and accounting at Point Loma Nazarene University and San Diego State University. Walling spent many years as a teacher at the high school and college level and now is a real estate developer. Volunteering as a baseball coach, several of his former players have gone on to play at the professional level. Walling is a Christian who enjoys baseball and relaxing with friends and family. Currently, he resides in Mesa, Ariz.
General Inquiries:
LAVIDGE – Phoenix
Meghan Bowman
480-306-6597
mbowman@lavidge.com