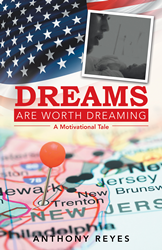 "My goal is for readers who may be going through a difficult time to know that they can start dreaming again and that they have the potential to become successful in life regardless of the hardships they are experiencing."
BAYVILLE, N.J. (PRWEB) April 19, 2021
In Anthony Reyes' newly released book, "Dreams Are Worth Dreaming: A Motivational Tale," he shares how he used to dream big until he experienced several difficulties in his life that affected him mentally and financially. Even though he endured some of the most challenging moments in his life, he discovered the necessary steps to get back on track to living his dream life.
Throughout the book, readers will be inspired by Reyes's story and how he shares that it is possible to achieve their dreams. He shares how the first step to reaching these dreams is to realize it starts within oneself. Readers will witness the author's personal experience as a backdrop as he shows what one needs to do to reinvent themselves with disciplined focus by changing their views, perspective and mindset.
"My new book illustrates how I was able to climb my way out of the life obstacles that I was facing that erased the dreams that I had for myself," said Reyes. "I wrote this tale for individuals to know that they are capable of getting out of the rut they may be experiencing. My goal is for readers who may be going through a difficult time to know that they can start dreaming again and that they have the potential to become successful in life regardless of the hardships they are experiencing."
"Dreams Are Worth Dreaming" presents a modern, uplifting and motivational story that will shed light on how to overcome life's obstacles that may blindside the dreams an individual always had for themselves. Reyes will encourage readers to influence the warrior within to take the initiative, to fight back against the opposing grain, to smooth its edges, and to make something out of one's most cherished dreams.
Ultimately, Reyes' book tells how becoming successful is not a sprint but a hurdling race that each reader will have to go at their personal pace to achieving the dreams they always had for themselves.
"Dreams Are Worth Dreaming: A Motivational Tale"
By Anthony Reyes
ISBN: 978-1-6657-0035-1 (softcover); 978-1-6657-0036-8 (eBook)
Available at Archway Publishing, Amazon and Barnes & Noble
About the author
Anthony Reyes was born and raised in New Jersey. An only child with something to prove, he is an inventor, young social media entrepreneur, husband and father. Reyes has been on a mission to change his family's life and those around him for the better in an iconic way.
General Inquiries:
LAVIDGE – Phoenix
Grace Bywater
480-998-2600 x 534
gbywater(at)lavidge(dot)com