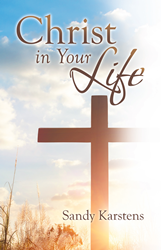 BELLE PLAINE, Minn. (PRWEB) January 04, 2023
Sandy Karstens spent years writing for her church's newsletter, where she received praise and encouragement to publish her writing. In her first book, "Christ in Your Life," Karstens has taken her newsletter articles, combined with her personal journals, and evolved them into a book readers can use to enrich their own walk with God.
Karstens wants to encourage readers in their faith, by offering advice from the scripture, and from her own personal experiences.
"In today's hectic world, it's easy to lose sight of God," Karstens said. "As we go through life, the struggles, the choices we make, and the life we live can either take us closer to God, or further away."
In her personal stories, Karstens shares how God has always been with her, is now with her and will always be with her, even if it isn't in the way she expects or desires.
"I'm just a hard-working grandma, trying to make a living with great faith," Karstens said. "Publishing my book seemed like a huge step, but God was showing me that it was time to share it, and that he would take care of me. Even if only one person is helped by my book, it will have been worth it."
Karstens hopes that readers will use her book alongside the Bible in their studies, as they move forward in their journeys of faith.
"Christ in Your Life"
By Sandy Karstens
ISBN: 9781664229525 (softcover); 9781664229518 (electronic)
Available at WestBow Press, Amazon and Barnes & Noble
About the author
Sandy Karstens is a mother of four daughters and grandmother to six. Her life is filled with continuously building a closer relationship with Jesus Christ. As she reached the winter season of her life, she felt a calling to publish her personal writings on her journey with Christ and share them with others. To learn more, please visit http://www.sandykarstens.com/.
General Inquiries:
LAVIDGE – Phoenix
Ashley Fletcher
afletcher@lavidge.com