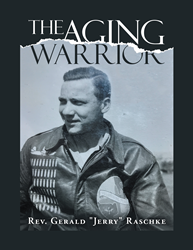 "Jerry shared his many detailed memories about the war, specific missions, and what it was like to serve in one of the most dangerous assignments of World War II. A must read!"
SPRINGFIELD, Ill. (PRWEB) April 19, 2021
Over 16 million Americans served in World War II, and those who made it home returned with stories of bravery, horror, and moments that reminded them that life is a gift. With few veterans left to tell their stories, author Gerald "Jerry" Raschke, at 96 years old, recounts his experiences beginning as an Army Air Corps recruit at the tender age of 18 in his memoir, "The Aging Warrior". An ode to family, friendship, and the bonds that tie us, Raschke's moving account celebrates the men and women who devoted their lives to serve their country.
Throughout the book, Raschke describes the 61 missions he served in the European theater in vivid detail from diary entries he made. Despite being color-blind, Raschke managed to earn his wings and the trust of his comrades to complete perilous bombing missions throughout the war. Readers will be on the edge of their seats as they learn about the losses, setbacks, and multiple crash landings Raschke went through as well as specific details around the high-risk missions that stacked the odds against him and his team.
The author also memorably shares the effect the love of his life had on him while serving abroad from their first meeting before his service to their wedding after his homecoming. Those interested in these fascinating wartime stories and the true details of Raschke's role will be inspired by his reflections on this time in history.
"Jerry shared his many detailed memories about the war, specific missions, and what it was like to serve in one of the most dangerous assignments of World War II," a reader wrote in a five-star review of the book on Amazon. "A must read!"
Filled with over 150 captivating WWII photographs, including several original 35mm color photos of target strikes and some images of the Holocaust collected from the Library of Congress, "The Aging Warrior" is an exceptional and all-encompassing view of the life of a young man and the extraordinary moments that defined his time in the service.
"The Aging Warrior"
By Rev. Gerald "Jerry" Raschke
ISBN: 978-1-6655-0924-4 (softcover); 978-1-6655-0925-1 (hardcover)
Available through AuthorHouse, Amazon, and Barnes & Noble
About the author
Rev. Gerald "Jerry" Raschke is a World War II veteran who served from 1943 to V-J Day 1945. Raschke met his first wife, Mildred, when she was 14 and they were married for 56 years. Raschke later followed his passion for his faith after being ordained to the Sacred Order of Deacons in 1975. Serving as a deacon for over two decades in Texas, he taught future priests and deacons at the University of Dallas' Anglican School of Theology. In 1994, he was appointed Archdeacon of the Dallas Diocese and in 1997, began serving at the alter during major feasts at The Cathedral Church of Saint Paul. He received recognition for his heroic feats from the president of the French Republic in 2017 when he was inducted as a Knight of the Legion of Honor, an honor created by Napoleon Bonaparte. Raschke retired as Vice President of Risk Management for Citi Bank after 42 years working in finance. Semiretired, he still serves at the altar on major feast days and resides with his family in Springfield, Ill.
General Inquiries, Review Copies & Interview Requests:
LAVIDGE – Phoenix
Danielle Grobmeier
480-648-7557 | dgrobmeier@lavidge.com