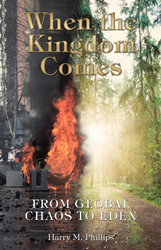 "I wrote my book to help people understand the monumental changes in the world today and see that they are only precursors to the coming kingdom of Jesus Christ."
AMHERST, Ohio (PRWEB) April 12, 2021
Author Harry M. Phillips has published the imperative first book to thoughtfully and accurately detail the future of Christians, beginning with the Rapture and ending with the fulfillment of the Millennial Kingdom. In "When the Kingdom Comes: From Global Chaos to Eden," Phillips highlights how the unfolding of current events are fueled and how they will ultimately end. The author dives into detail about what happens to the people on earth that survive the global chaos and how Christians from all of history will take their place together in the coming Millennial Kingdom with the return of Jesus of Nazareth.
In this informative text, Phillips brings attention to three major components: the beginning of eternity for the believer, the continuation of humanity and its history and the actual physical presence of Jesus for one thousand years. All three of these proceedings are related through Scripture as happening in conjunction with the earth. By starting with common conceptions and sometimes misconceptions of heaven, the author presents a careful and thoughtful challenge from Scripture about Christians' assumptions of eternity in contrast to their place in Jesus's kingdom on earth.
"It is my opinion after fifty years of observation that Christians are too focused on the coming Great Tribulation and not enough on the coming Savior and his kingdom," said Phillips. "I wrote my book to help people understand the monumental changes in the world today and see that they are only precursors to the coming kingdom of Jesus Christ."
Ultimately, in "When the Kingdom Comes," readers will have more insight on the little known and understood subject of the Millennial Kingdom and be able to visualize themselves in the coming timeframe. The information presented throughout the book opens a wonderful and mysterious door as the realities of the Millennial Kingdom and the possible experiences in it are brought to light.
"When the Kingdom Comes: From Global Chaos to Eden"
By Harry M. Phillips
ISBN: 9781973626947 (softcover); 9781973626930 (hardcover); 9781973626954 (electronic)
Available at the WestBow Press Online Bookstore, Amazon and Barnes & Noble
About the author
Harry M. Phillips is a self-employed businessman, automotive designer, street rod manufacturer and now an author. Finding an audience interested in his offbeat viewpoint led Phillips to consider writing, and his flair for writing was revealed while penning a yearlong series of articles for Northern/Southern Rodder magazine entitled "Hot Rod Harry Speaks." Even though antique and custom cars were his day job, his real interest was studying Scripture. Phillips' unbridled passion for the Bible and his unrelenting search for divine truth have spanned nearly a half-century, ultimately producing his debut book, "When the Kingdom Comes." In true entrepreneurial fashion, Phillips has combined his interest in writing with knowledge gleaned from lifelong biblical studies. He currently resides in Amherst, Ohio.
General Inquiries:
LAVIDGE – Phoenix
480-306-6597
mbowman@lavidge.com