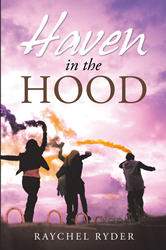 "I wrote 'Haven in the Hood' for my friend, Maria. I promised her I would write a book relating the psychic and divine events that helped her survive," said Ryder.
PHOENIX (PRWEB) February 03, 2020
Many Americans take living in good neighborhoods for granted. In Raychel Ryder's new book, "Haven in the Hood," readers will meet Maria, a brave woman the author grew up with, who shares her stories of survival through dangerous events that she experienced over many years. The book takes place in one of the most violent crime neighborhoods in the United States and documents the true events that occurred on the very block and nearby streets where Maria resided.
Haven in the Hood" highlights the subculture of drugs and the dangerous illegal activities dominating Maria's life in that neighborhood. Throughout the book, readers will understand what really goes on in poverty and crime-ridden neighborhoods. Ryder brings awareness to the plight of how certain situations can cause young people to slip into the vicious cycle of drugs, crime and possibly death. Readers will see an atmosphere of fear and how individuals survived in such situations. The book brings a message of hope and some sound advice for survival through adversity. Ryder's book will be a true eye opener to just how bad things can be and what one must do to survive.
"I wrote 'Haven in the Hood' for my friend, Maria. I promised her I would write a book relating the psychic and divine events that helped her survive," said Ryder. "Maria is a survivor and prayer warrior that overcame hardships of poverty and criminal dangers of her neighborhood. The book is for people who struggle in this kind of environment and for those who live in better areas and are not afflicted with poverty. It will bring awareness to the plight of poverty and the interconnected cycle of poverty, drugs and crime that dominate these types of neighborhoods."
The novel has received rave reviews from The Pacific Book Review (Star Review) and The US Review of Books (Recommended Book).
"Her (Maria's) faith and belief in God have surely granted her the chance to claim her home once as her safe haven in the hood and now that she no longer has to worry about the constant crimes, she accepts that part of her life as what molded her into a stronger believer. Things became better with time and all she needed was to stand firm in her faith and have patience to survive." The reviewer also says, "I encourage others to take a moment to read this book as it would provide some strength to those who have strayed from their faith and to maintain a positive outlook on greater possibilities to appear in their own lives." – The Pacific Book Review-Star Review
"Ryder is a former educator who writes with a strong ear for dialogue and admirable verve, making Maria's psychic abilities seem undeniably real and her many brushes with violence and near-death all the more harrowing. …These incidents allowed Maria to assume the role of a good neighbor and invoked the author's speculation that others might follow her vigilant lead. Each chapter begins with a Bible verse relevant to the particular story. The collaboration between these strong, intuitive women will undoubtedly attract like-minded readers." – Recommended by the US Review
"Haven in the Hood" is a true story of hope and survival and will appeal to readers who are dealing with similar situations such as surviving in low income and crime-ridden neighborhoods. While Maria went through these frightening events, she wants to spread awareness of just how real faith can be for protection in one's life. She always knew God was looking over her and that gave her a sense of safe haven within her home in the hood.
"Haven in the Hood"
By Raychel Ryder
ISBN: 978-1-9845-6433-7 (hardcover); 978-1-9845-6432-0 (softcover); 978-1-9845-6431-3 (eBook)
Available through Amazon, Barnes & Noble and Xlibris
About the author
Raychel Ryder is the pen name for the author of "Haven in the Hood" which is based on the true story of Maria (fictitious name) and her life in a dangerous, high crime neighborhood over a 26-year period. Ryder started a teaching career in 1982 and took a twelve-year hiatus as a "stay-at-home mom/wife" who raised her children, coached volleyball, managed a softball team and earned a master's degree in education during that time. She only recently retired from a 19-year stint as an adjunct professor from a local community college. "Haven in the Hood" is the fulfillment of a promise to Maria to chronicle these stories of her life in "the hood".
For general inquiries contact:
LAVIDGE
Grace Bywater
480-998-2600 x 534
gbywater(at)lavidge(dot)com