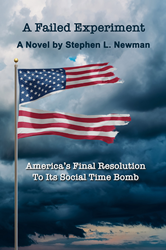 "I want my readers to understand that there's going to be many surprises found within the subplots. We're living in a very tense and controversial political atmosphere. We have to understand that we need to live together and work together, otherwise there could be disastrous consequences."
LAGUNA BEACH, Calif. (PRWEB) February 15, 2021
Stephen L. Newman, author of the new historical fiction novel "A Failed Experiment: America's Final Resolution To Its Social Time Bomb," available now in e-book and audiobook through Fig Factor Media Publishing, makes reference to President Abraham Lincoln and his conflicting positions concerning Blacks living in America.
"Abraham Lincoln predicted that race relations between Blacks and Whites would be a
failed experiment and this reflects the title of my book," Newman explained. "Examples of this dichotomy includes the fact that in 1854 he presented his moral, legal and economic opposition to slavery but then he clearly admitted that he didn't know what he should do about it. He felt that all Black men should have the right to improve their condition in society and enjoy their fruits of their labor. In this capacity they were equal to White men but, nevertheless, he followed the dictates of Henry Clay and Thomas Jefferson in seeing no way that Blacks and Whites could live together peaceably."
Citing important events such as Dred Scott case, the murder of Chicago teen Emmett Till, the birth of the Civil Rights Movement, and the election of America's first Black President Barack Obama, Newman used these historical points as the backdrop for his book to create a parallel view based on Lincoln's opinions on race relations.
The book takes readers through the generational ties of William Hilton Magruder, a successful lawyer, who eventually becomes President of the United States in the near future.
Readers learn about this courageous protagonist, his personal life and family history dating back to the 18th century and how he tries to find a permanent and positive solution to quell the racial tensions and unrest among the population. In the end, William must make a difficult decision that will dramatically alter the country's future.
"I want my readers to understand that there's going to be many surprises found within the subplots," he said. "We're living in a very tense and controversial political atmosphere. We have to understand that we need to live together and work together, otherwise there could be disastrous consequences."
Fig Factor Media Publishing presents the e-book and audiobook versions of "A Failed Experiment: America's Final Resolution To Its Social Time Bomb." For more information visit https://afailedexperimentbook.com/.
About Fig Factor Media:
Fig Factor Media Publishing is an international publishing company with a "beeping" heart. Fig Factor Media has helped many authors achieve and support their dream of impacting their communities in the United States, Mexico, and Europe. Fig Factor Media is the official publisher of Today's Inspired Latina. For information, visit http://www.figfactormedia.com.
About Stephen L. Newman:
Stephen L. Newman graduated from the University of Southern California with Magna Cum Laude honors. As a Certified Public Accountant, Newman initially represented talent and production entities in a number of major motion pictures. More recently, he has concentrated on representing foreign interests and U.S. citizens in significant controversies with various tax authorities.
Newman has been married for 52 years, has five children and seven grandchildren. He and his wife reside in Orange County, California. For more information visit https:// afailedexperimentbook.com/. ###