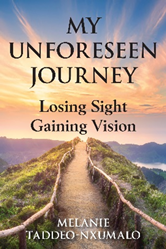 MISSISSAUGA, Ontario (PRWEB) January 29, 2020
'My Unforeseen Journey: Losing Sight Gaining Vision' is the deeply moving story of a young woman, Melanie, whose life changes drastically after suffering a massive stroke that leaves her legally blind and completely paralyzed on her left side. This "must read" is penned by an unforgettable Canadian author, Melanie Taddeo-Nxumalo.
The author of this empowering narrative, imparts her experiences in a unique and inspiring way, providing profound insights for the reader to relate to in their own unforeseen journeys. This book is a practical guide about how to overcome adversity with resilience and how to move forward in times of hardship.
"We never know when we may be faced with unforeseen challenges. I hope that by sharing my story, I will encourage and enable others - entrepreneurs, professionals, and community leaders alike, to embrace life's challenges and overcome adversity with dignity and ease" says Melanie Taddeo-Nxumalo.
Testimonials:
"Melanie is a force of nature. Her deep-seated belief in the potential of everyone inspires all around her. Especially me."
-Kai Black, Canadian Broadcasting Corporation
"Melanie's chronicle of misfortune offers us an engaging approach to building resilience by offering processes and tools to prevail when faced with our own unforeseen journey. She wrote this book from a place of vulnerability, integrity and humility."
-Gaby Mammone, Professional Speaker and Social Entrepreneur
Melanie has a strength that is unmatched. After years of therapy, Melanie was able to regain her independence and go on to become the first legally blind teacher to graduate in Ontario - a certified special education teacher with over ten years of experience in program development, fundraising, community outreach, volunteer management, and public speaking.
Based on Melanie's personal experiences with respect to the lack of support and opportunities to foster independence for individuals with disabilities, she founded a charity, Connect 4 Life, and launched Voices 4 Ability. Connect 4 Life aims to eliminate barriers for people with disabilities by strengthening their independence and contributions to society; and to promote positive social change by transforming public perception. She is also an inspirational speaker and works to help individuals overcome adversity with dignity and ease, and find their voice. Voices 4 Ability is a social enterprise offering an introduction to broadcasting for people with disabilities. The talk radio shows address various relevant topics such as accessibility, employment, breaking down barriers, relationships, advocacy, and barrier free living just to name a few.
Her inspirational book My Unforeseen Journey: Losing Sight Gaining Vision is published by IC Publishing. Cover price is $20 CDN. ISBN Paperback # 978-1-989304-30-3. eBook is $9.95 CDN. ISBN Digital # 978-1-989304-31-0.