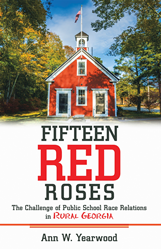 ATLANTA (PRWEB) February 18, 2019
With the emergence of a recent viral video depicting the major tension between groups of protesting white high school teens, Native Americans and a black religious group, it is very clear we still have a long way to go when it comes to teaching all students the value of diversity and acceptance. Amid these tensions in the media, Ann W. Yearwood tells a story of the challenges of integration during the Civil Rights era in her new book, "Fifteen Red Roses: The Challenge of Public School Race Relations in Rural Georgia."
The story reflects what white teachers in predominantly white schools went through when they were tasked by law to integrate black children into the white classroom for the first time. Just as they did in real life, tensions run high among all involved—white and black teachers, parents and students—but the main character learns to lean on God for solace and strength through the trying era.
Even though this book presents a fictitious look at the very real tensions Civil Rights-era integrated classrooms experienced, Yearwood says the book comes from a personal place for her as she has had experience teaching to integrated classrooms. "There were mistakes made by my county and others as we integrated our schools, because we were the first to do it. As a result, today's public schools must study these mistakes and others to help our students and schools improve."
"Fifteen Red Roses" will help readers understand how lucky they are to live in a diverse world that's made great strides in race relations but still has work to do.
"Fifteen Red Roses: The Challenge of Public School Race Relations in Rural Georgia"
By Ann W. Yearwood
ISBN: 9781973623915 (softcover); 9781973623922 (hardcover); 9781973623908 (electronic)
Available at the WestBow Press Online Bookstore, Amazon and Barnes & Noble
About the author
Author and retired educator Ann W. Yearwood is well known in her Georgia county, where she has lived with her husband most of her adult life. She writes about home, school, church, and community. Her research on interracial dynamics was published in The Gerontologist (1983); her first book, Redbird Farm, debuted in 2008. Two of Ann's four children still live in the county and have families of their own. Wife, mother, grandmother, great-grandmother, aunt, and friend, Ann likes to think of herself as an encourager. To learn more about her, please visit her Facebook page.
###