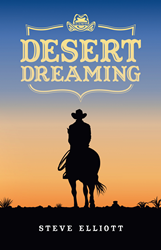 "My hope is for readers to enjoy this adventure story of the good guy saving the world and learn a bit about Australian history."
PERTH, Australia (PRWEB) April 21, 2021
Author Steve Elliot has over forty years of experience as a geologist traveling across the globe. Elliot's first adventure novel, "Desert Dreaming," is inspired by the author's many expeditions as he introduces readers to exploration geologist Ben Wilde. This gripping story unfolds as Wilde begins to work on a prospecting trip in Western Australia, he has no warning of the dangers and adventures that await him.
Throughout the book, readers will follow along as Wilde sets out on a journey of a lifetime. With his trusty assistant, Mick, and other unforgettable helpers, Wilde manages to entangle himself in a terrorist plot aimed at a nuclear waste facility, and to uncover a mysterious and unusual structure, a building that could very well change the history of the continent. During his travails, Wilde also discovers an Aboriginal site which will rewrite the history of the Aboriginal people.
"I was inspired to write this book because I am an exploration geologist and I know what it takes to explore in the desert," said Elliot. "My hope is for readers to enjoy this adventure story of the good guy saving the world and learn a bit about Australian history."
Readers will be captivated by this adventurous plot with an intoxicating combination of danger, suspense, mystery, intrigue and a dash of romance. To continue following along on geologist Ben Wilde's exhilarating adventures, check out the sequel, "Lasseter's Legacy."
"Desert Dreaming"
By Steve Elliot
ISBN: 9781504323826 (softcover); 9781504323833 (electronic)
Available at Amazon, Barnes & Noble and Balboa Press
About the author
Steve Elliott is a geologist with over forty years of experience exploring in Australia, United States of America, Canada, Malaysia, Brazil, South Africa, Zimbabwe and Madagascar. He received his bachelor's in applied sciences (Geology) from Curtin University. An active camper, reader and writer, his other works include "Lasseter's Legacy" and "Bullshit". He lives in Perth, Western Australia with his wife Sally, dog 'Florence' and cat 'Smudge'.
General Inquiries:
LAVIDGE – Phoenix
Meghan Bowman
480-306-6597
mbowman@lavidge.com