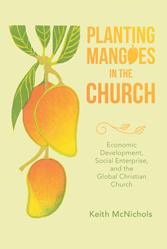 CHINO HILLS, Calif. (PRWEB) February 27, 2023
In his new book "Planting Mangoes in the Church: Economic Development, Social Enterprise and the Global Christian Church," author Keith McNichols provides readers with a thought-provoking and action-spurring faith-based business book that shares important business lessons through storytelling. It serves as a calling to strengthen society through entrepreneurship in an "incubator church" that fosters economic growth and security in underserved communities.
"The idea of an incubator church is much the same as a traditional business incubator," said McNichols. "If they combine their work and ideas within the churches, they could spawn businesses that will help the church, their families and their communities."
The engaging story unfolds chapter by chapter through a grandfather's interactions with his grandchildren, and the wisdom he shares as they spend time together on the grandfather's mango farm. Following each section of the story, McNichols dives deeper into the key topic Grandfather shares within the chapter.
"I wrote this book so that everyone can connect with Grandfather in their own way, no matter where in the world they live," he said. "I want readers to be able to take the concepts laid out in the book and collectively come together for the benefit of their communities. Everyone has a gift, and if we come together with those gifts, we can have significant, exponential returns."
"Planting Mangoes in the Church: Economic Development, Social Enterprise and the Global Christian Church"
By Keith McNichols
ISBN: 9781664269729 (softcover); 9781664269736 (hardcover); 9781664269712
(electronic)
Available at WestBow Press, Amazon and Barnes & Noble
About the author
Keith McNichols is a multifaceted follower of Jesus Christ with a deep love for business and for people in developing regions of the world. He studied Design at the University of California, Los Angeles, earned an MBA at the Peter Drucker School of Management and a doctorate from the Bakke Graduate School. He spent 24 years with The Walt Disney Company, and has since held positions in marketing, sales and management consulting. After he and his wife adopted five older children from Ethiopia, McNichols began a ministry in Ethiopia and elsewhere through mission-related roles at his local church. McNichols continues to work in business leadership, serves as the Director of Missions at Chino Valley Community Church, and is an adjunct professor of entrepreneurship at Azusa Pacific University. KeithMcNichols.com.