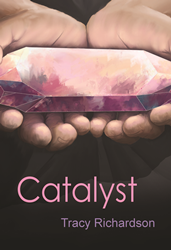 We don't have to go with the status quo. Each and every one of us can be a catalyst for positive change. - Tracy Richardson, author of "Catalyst"
DALLAS (PRWEB) June 02, 2020
There is more to this world than meets the eye in science fiction author Tracy Richardson's newest installment in her young adult series, "Catalyst" (eBook releasing today from Brown Books Publishing Group). The story features returning characters from the series' first book, "The Field," but centers on Marcie, who has a sixth sense. She feels a sort of knowing about certain things that can't be explained - an intuition that extends beyond normalcy.
This summer, Marcie is spending time working at Angel Mounds, the archaeological dig her mother heads, along with her brother, Eric, and his girlfriend, Renee. The dig is the site of an ancient indigenous civilization, and things immediately shift into the paranormal when Marcie and her teammates meet Lorraine and Zeke. The two mysterious dig assistants reveal their abilities to access the Universal Energy Field with their minds - something Marcie knows, only vaguely, that her brother has also had experience with. Marcie learns how our planet will disintegrate if action is not taken. She and her team must decide if they are brave enough to help Lorraine and Zeke in their plan to save Mother Earth, her resources, and her history. It looks like the summer just got a lot more interesting.
"['Catalyst' is] based in present-time Earth dealing with the real issues we face while also exploring the possibilities of what and who might be out 'there' and what our relationship with them can be," said Richardson. "It also explores our evolution as a species."
Inspired by a desire to protect and sustain the planet, Richardson wrote "Catalyst" not only to entertain readers but to encourage them to think. "We can make the world a better place," Richardson also said. "We don't have to go with the status quo. Each and every one of us can be a catalyst for positive change."
For more information about the author and her series, visit http://www.TracyRichardsonAuthor.com.