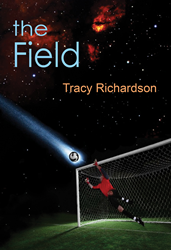 I hope that The Field encourages people to look beyond what they think they know is true and, hopefully, gives them a really good story to enjoy while they're doing it. -- Tracy Richardson
DALLAS (PRWEB) April 23, 2019
Have you ever had an intuitive experience or known someone who has? It might be an eerily prophetic dream, thinking about someone and then running into them, or having a hunch about someone that proves to be true. If so, then you might know exactly what Tracy Richardson is referencing in her new and exciting young adult fiction novel, "The Field" (Brown Books Publishing Group), which releases today.
Protagonist Eric, a soccer player, has a lot on his plate, including crazy dreams — or are they premonitions? He experiences a world on fire, an inexplicable connection to the new girl in school, and even a new supernatural awareness on the soccer field that is equal parts mystery and gift. As his life continues to shift, Eric will be tested beyond anything he's experienced before. He must decide whether he believes in that part of himself which ties him to the world around him, and he must access it—or lose everything he's been working to keep.
Author Tracy Richardson has experienced moments of intuition and psychic experiences in her own life. Influenced by a love of science, a passion for environmental issues, and her search for true meaning, she decided to construct a young adult novel with classic features but add a layer of meaning and substance on a completely different level. "I wanted to write a novel about science because I think fiction is a great teacher," she said. "Ideas and concepts can be presented in a way that we can relate to on many levels, both as a fictional tale and as an actual idea or concept that we can understand because it's presented in the form of story."
Richardson will be embarking on a book signing tour to Illinois, Michigan, Indiana, and Ohio during April, May, and June. For tour dates and more information about the author and The Field, please visit http://www.TracyRichardsonAuthor.com.