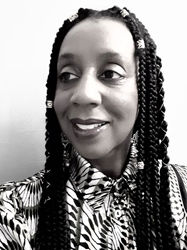 "Naming an African burial ground in honor of a slave owner and a Confederate, is like naming a Jewish cemetery in honor of Hitler. It is totally unacceptable."
SAVANNAH, Ga. (PRWEB) January 12, 2021
Rest with Honor Savannah is a historical social justice initiative working to commemorate an unmarked colonial 'Negro Burying Ground' located in the center of Savannah, Georgia. The burial ground was designated in 1763 and is now 258 years old.
In 2017, Lauri Lyons visited Georgia for a press trip that unexpectedly took a divine detour into America's colonial past. "While taking a walking ghost tour of Savannah, the tour guide mentioned a rumor about a haunted African burial ground. That sparked my interest to find out if the existence of the burial ground was fact or fiction," said Lyons.
For more than 20 years, Lauri Lyons has been a prolific global storyteller and documentarian. She is the author of Flag: An American Story and is the Founder of Nomads Magazine. She is also well known as a journalist, celebrity photographer, and educator.
In 2020, Lyons extensive historical research and relentless detective work unearthed the present-day location of the burial ground. She was also able to obtain a Georgia Bureau of Investigation forensic report about a colonial skull found at the site. The Savannah Municipal Archives has signed an official research statement, confirming that the City only has records of two bodies exhumed from the burial ground.
Lyons also launched the Rest with Honor Savannah initiative and proceeded with community outreach efforts via the local press, public virtual meetings and cultural programs.
Savannah played a major role in establishing the cotton and rice plantations in America, which were fueled by slave labor, and made America extremely rich. The plantations and the enslaved Black people from Africa and the Caribbean that worked on them created the foundation of the American economy.
In 1850 the City of Savannah closed the Negro Burying Ground aka African Burying Ground and redesigned the space as two public squares (parks) - without moving the buried bodies.
One of the squares was named Whitefield Square in honor of Reverend George Whitefield, who was one of the founders of the Methodist church and one of the primary people responsible for overturning Georgia's ban on slavery.
The other square was named Calhoun Square in honor of John C. Calhoun, the fierce pro-slavery Vice President of the United States and the Confederate icon responsible for creating the philosophy of State's Rights, nullification and secession from the Union.
Lyons believes the African burial ground encompasses Whitefield Square, Calhoun Square and space in between the squares. "Naming an African burial ground in honor of Whitefield and Calhoun, is like naming a Jewish cemetery in honor of Hitler. It is totally unacceptable." said Lyons.
As a response to this blatant act of institutional racism, Ms. Lyons launched a petition in July 2020 http://www.change.org/restwithhonorsavannah to bring attention to the burial ground and correct the social injustice. The petition is a call of action for the City of Savannah government officials to do the following:
1. Officially recognize the (2) squares as a colonial African burial ground.
2. Rename Calhoun Square and Whitefield Square.
3. Place information markers in the squares.
4. Protect the African burial ground via the National Park Service or as a UNESCO World Heritage Site.
5. Build a memorial for the burial ground.
Lyons immediately began building a coalition of Savannah community members to help raise awareness about the burial grounds' existence and its importance. A Savannah activist said "Lauri is a godsend. Her work and research validated what we always knew locally; we just didn't have the confirmation. We were used to walking downtown and were always told that there was a burial ground there, somewhere. We just didn't know where."
Lyons also reached out to unlikely allies to support her efforts. Reverend Robert Lee IV, a descendant of the Confederate General Robert E. Lee has publicly stated, "On behalf of myself as a descendant of a slave owner and a descendant of a Confederate General, I want to emphatically and unconditionally call for this change to happen in Savannah. The time is now to address what is happening in our country, but in our past as well, and to be honest with it."
Over the years, Lauri Lyons has paved her own path and pioneered along the way. In light of her extraordinary discovery, Lyons is now the Executive Director of the Rest with Honor not-for-profit organization, working for social justice and cultural preservation. The organization is now gathering petition signatures to legally rename the squares.
Savannah's African Burying Ground is central to America's narrative about race, religion, and war. It deserves to be officially commemorated because it is a major part of American History. Black lives matter in the past and present.
To sign the Rest with Honor Savannah Initiative visit: http://www.change.org/restwithhonorsavannah. Follow the movement on Facebook and Instagram @restwithhonorsavannah