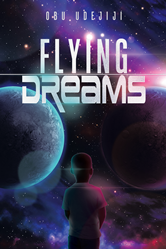 "Flying Dreams was written to make the world a better place," said Udejiji. "I want every man, woman and child to have equal rights, as that's the only way to find out who we are and where we come from."
EDMONTON, Alberta (PRWEB) January 18, 2023
The newly released book, "Flying Dreams," is author Obu Udejiji's attempt to explain his dreams as well as share his thoughts and ideas with the world about the power of love.
From a young age, Udejiji has had a recurring dream that he's flying. The dream has changed over the years, and he's spent plenty of time thinking about the meanings and different iterations. After reflecting on them for the better part of his lifetime, he describes that they universally represent the importance of the power of love and the importance of world unity.
"Flying Dreams was written to make the world a better place," said Udejiji. "I want every man, woman and child to have equal rights, as that's the only way to find out who we are and where we come from."
Udejiji explains that his book is all about the awareness of dreams and to help readers understand that the real world is not too far off from the dream world. Humans need to recognize the world beyond their dreams to appreciate the subconscious of that dreamer, including their full story and how it connects to what they see in the real world.
"Imagine if you can choose where to go when you go to sleep, wouldn't that be amazing?" asked Udejiji. "It would be tremendous to have a place to catch a break for a moment and find peace and happiness, then awaken with a positive mindset and self-fulfillment of inner desires."
"Flying Dreams"
By Obu Udejiji
ISBN: 9781665570237 (softcover); 9781665570220 (hardcover); 9781665570213 (electronic)
Available at AuthorHouse, Amazon and Barnes & Noble
About the author
Obu Uderjiji was born in the Enugu State, in the southeastern part of Nigeria. He later emigrated to Canada, where he graduated from Ontario Real Estate College in Toronto in 2010. Uderjiji currently lives in Edmonton, Alberta, where he owns PPS Paining Inc. and is a contractor for the oil and gas industry. To learn more, please visit http://www.udejijiobuflyingdreams.com.