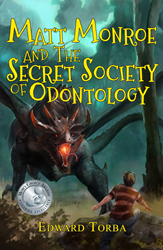 "Author Edward Torba's refreshing authorial voice shines through and keeps readers riveted from the first to the last page. This is a classic, well-written story of the forces of good versus evil." - Writer's Digest
LATROBE, Pa. (PRWEB) November 20, 2018
Local author and dentist Edward Torba, never imagined he'd become a published author, but on November 20 his first novel in a series, "Matt Monroe and the Secret Society of Odontology", releases nationally to rave reviews. Torba's first official book signing takes place 9 a.m. to 1 p.m. Saturday, Nov. 24, at the Ligonier YMCA Santa's Workshop, 110 West Church Street, Ligonier PA, 15658. In celebration of the book launch, Torba will give away 100 copies of his e-book on his website http://www.edwardtorba.com.
Torba's middle-grade fantasy novel deftly weaves the world of dentistry into what he calls a "Harry Potter-ish story with a dental twist". The book has already garnered two awards, the Mom's Choice Award and Pinnacle Award for Best Juvenile Fiction, and is expected to be an instant classic among middle-schoolers as they tag along with Matt Monroe and his friends on a journey to fight evil and save the world. The book is available on http://www.edwardtorba.com, Barnes & Noble, and Amazon.
"I never intended to become an author, much less a publisher with a book series," said Torba. "I didn't even like creative writing in school." But while in dental school, Torba created a picture book, "King Molar and the Magic Trip", for his young patients. It was a big hit with the kids and their parents.
"My family and friends urged me to write a fantasy book about dentistry. They said I had a boundless imagination. That may be, but why did they think I could write a book?" Torba added.
"Then one day the writing bug hit me. I can't precisely explain what happened, but the story of Matt Monroe began to bounce around in my head. It literally popped into my conscious mind one day and wouldn't leave," Torba explains. "Any time my mind wandered off or I had a chance to relax, Matt was there. It was as though he demanded his story be told."
After several years of writing, working with editors, designers and learning the publishing business, Torba releases his first book in the Matt Monroe series on November 20, with the second book, "Matt Monroe and the Haunted House", already in the editing phase.
The series kicks off when fourteen-year-old Matt Monroe is enjoying an ordinary summer with friends until one night, mysterious red lights appear in the sky over the Monroe family farm and strange creatures begin stalking the woods. When he discovers a set of wooden tablets and a mysterious ring in his great-grandfather's dental chest, an ancient prophecy begins to unfold. Matt, his older brother, and five friends are transported to a magical dimension called Paragon to face deadly monsters and fight an epic battle against an evil enemy. Matt Monroe and his friends embark on an epic adventure of deception and betrayal, mixed with courage and the bonds of friendship.
"Matt and his friends must overcome evil just like the group in Stephen King's It or the young wizard in Harry Potter," says Donna Smith with the US Review of Books. "(It) evokes the feel of an unexpected summer breeze, the freedom of riding a bike, and a time in your life when you believed in the possibility of unearthly adventures."
The adventures of Matt and his friends is geared for children ages 8 to 13, but it's also an enjoyable read for any adult who wishes to travel back to a time in their life when hidden worlds and magic - even the tooth fairy - was possible.
"Things of family, love, and good versus evil are highlighted in Matt's quest, while the descriptive narrative is imaginative," said Maya Fleischman of Clarion Book Review. "This is an engrossing tale of good battling evil in a mystical world."
About the Author: Edward Torba is the founder of All Points Press and the author of the Matt Monroe middle-grade fantasy series. He graduated from the University of Pittsburgh with a B.S. in biology in 1973 and a D.D.M. in 1977. He has been a general dentist for more than thirty-five years, practicing in Latrobe, Pennsylvania. His lifelong hobby has been writing. Publications to his credit: The Magic Trip, Boys Club Guide to Football, and now, Matt Monroe and the Secret Society of Odontology.